Yolanda Foster: I Have A MAJOR Problem With 'Hollywood Friend' Lisa Vanderpump Playing The Victim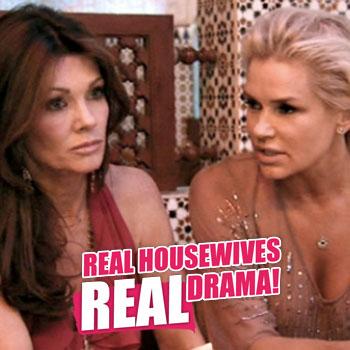 After Yolanda Foster swatted at Lisa Vanderpump's husband for merely touching her hand, she broke down in hysterics over the altercation. But one of Foster's Real Housewives of Beverly Hills co-star claims it was all just an elaborate act to "assassinate" Ken Todd's character.
Reflecting on the squabble at the Beverly Hills 100th anniversary party, Joyce Giraud says Foster put on quite an act to defame the British-American businessman.
Article continues below advertisement
"My husband and I didn't see the alleged aggression when it occurred. After Ken and Lisa left, Yolanda was shaking like a leaf, almost crying and saying that she had never had a man put his hands on her. This became a big deal at the party and Carlton Gebbia, Kyle Richards and myself were all shocked and felt genuinely sorry for her -- to the point where my husband gave Yolanda his jacket," Giraud recalled in her Bravo blog.
Article continues below advertisement
"I know @KenToddBH would never hurt a woman. He didn't even touch Yolanda. This was a shameful attempt to discredit him," Giraud's hubby, Michael Ohoven wrote.
"Sometimes emotions run high. I know Ken to be a true gentleman, "Mauricio Umansky added.
The former Miss Puerto Rico went on to praise Vanderpump's husband for standing up against the other housewives.
"Ken is my hero of the episode. A man who defends his lady is a true prince," she gushed. "I admire how he stood up for his wife… and that he was not giving the Hollywood hypocritical kisses to everybody. He let them know what he thought about their behavior."