SERIOUSLY?!? Woman Lights Snake On Fire, Ends Up Burning Down Her House!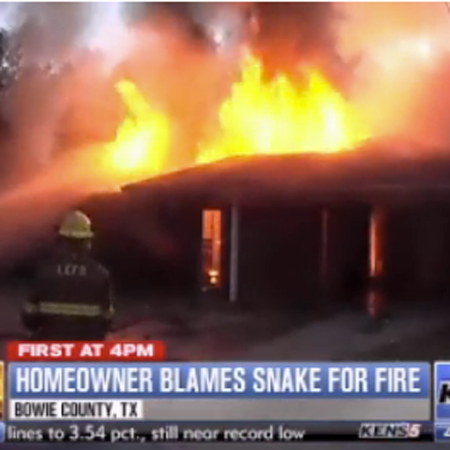 It almost sounds like a Monty Python skit -- (pardon the pun) -- a Texas woman throws gasoline on a snake, lights it on fire, and ends up burning down her home in the process!
Officials in Bowie County in North Texas said it started when a woman became frightened when she saw a snake slithering in her yard on Wednesday night – then, she made a VERY bad decision.
"While cleaning up, she saw a snake, threw gasoline on the snake, and lit the snake on fire," said Deputy Randall Baggett with the Bowie County Sheriff's Office. "And the snake went into the brush pile and the brush pile caught the home on fire."
Article continues below advertisement
The fire also damaged a home next door.
Watch the video on RadarOnline.com
It's not known if any charges will be filed in the case.