Watch As Woman Wins $1 Million On Wheel Of Fortune!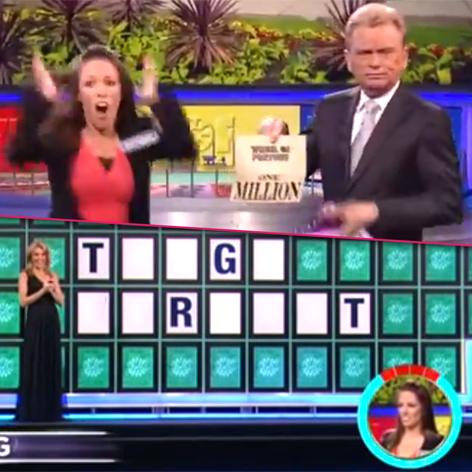 I'd like to buy a vowel that will give me $1 million, Pat!
A contestant on the long-running show Wheel of Fortune solved a puzzle on Thursday night and won a whopping $1 million and her amazing guess at the answer is in the video on RadarOnline.com.
Autumn Erhard became only the second person ever to win the $1million dollar prize and she entered the bonus round with a Wild Card that gave her an extra consonant.
Article continues below advertisement
She was given R, S, T, L, N and E to solve the two-word "Thing" puzzle and with the wild card she picked an M.
radar_embed service=youtube src="https://www.youtube.com/embed/EucLUxbkJ4Y?feature=player_embedded" width="640" height="360"
Vanna White only turned three letters but she correctly guessed "Tough Workout" for the win and was shocked when Pat opened the surprise $1million prize envelope.
Jumping for joy and screaming, Autumn said she was "in complete and utter shock."
"I'm shaking. I came here today because I love the game, I wanted to have some fun and solve some puzzles – I feel like I'm in a dream!"
Check out the video of the crazy guess that won Autumn $1million on Wheel of Fortune.