What A Load! Cops Spring Naked Man From Washing Machine He Was Hiding In To Surprise Galpal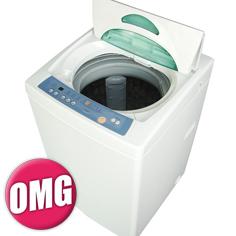 A Melbourne, Australia man identified only as "Laurence" was the butt of many a joke, after showing his own butt -- and everything else -- to officials trying to spring him from a washing machine he'd been stuck in, after crawling in there to play a joke on his girlfriend.
Laurence, 20, said in an interview with Australia's Fairfax Radio that he devised the rib on a lark, only to become horrified when he realized he couldn't spring himself from the home appliance. After calling a friend, who summoned the cops, the man was lubricated enough -- with olive oil he had in the house -- to get him out of the machine.
Article continues below advertisement
He told the station, "I was quite disappointed they used my good olive oil. As soon as the washing machine went on its side, it was a bit like a birthing."
Watch the video on RadarOnline.com
Shepparton police Sgt. Michelle De Araugo told the Shepparton News that Laurence "was very well wedged in there and officials were concerned for his health and well-being.
"It was just a game gone wrong," De Araugo said. "It would be fair to say the gentleman was very embarrassed."