Wendy Williams Blasts NeNe Leakes: You Aren't Going To Win 'DWTS'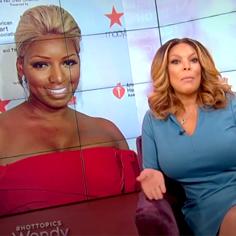 Former Dancing With The Stars contestant Wendy Williams doesn't think NeNe Leakes stands a chance of winning the Mirror Ball Trophy.
During her daytime talk show, Williams spoke about her experience on the dancing competition, adding that her former partner Tony Dovolani will have his hands full working with Leakes.
"As I predicted, Tony Dovolani–my former partner–will be NeNe's partner because he always gets the big ones," Wendy said with laugh.
Article continues below advertisement
"Let's see how this is going to play out. Tony has already won a Mirror Ball Trophy. He's very, very serious about his dancing. He does not play around… but he's not a reason to leap out of bed and run to practice."
Williams went on to explain that rehearsals run six days and each session is six hours and wondered if Leakes had to stamina to last.
"NeNe, I don't know if you're disciplined like that to be dancing every single day," she said.
While Wendy recalled that Dovolani was a nice guy, she made it very clear that he's serious about the business of ballroom dancing.
"He's not fun, NeNe. I wish you well, but you all aren't going to win," she quipped.
youtube