Watch: 'Real Housewives Of Beverly Hills' Star Kim Richards Catches Lisa Vanderpump In A Lie!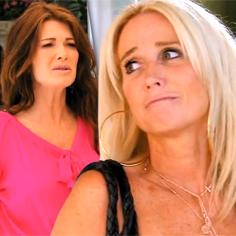 A new feud is set to unravel on The Real Housewives of Beverly Hills when Kim Richards confronts Lisa Vanderpump about why she missed her daughter Kimberly's graduation party and seems to catch her in a bald-faced lie.
In a sneak peek of the upcoming episode, Lisa claims she was out of town the entire weekend but Kim fires back that her hairdresser saw Lisa having dinner at SUR.
"Giggy, Ken, and I went to Missouri to support children with alopecia," Lisa explains. "It was a long way. It was quite an arduous trip. But Giggy a sufferer of alopecia is committed to that, so of course, as Giggy's carrier I had to take him."
Article continues below advertisement
When Kim continues to say that her hairdresser saw Lisa in Beverly Hills, suddenly Lisa remembers: "Oh... maybe I came back Saturday night?"
"Oh, now that my hairdresser saw her, she remembers?" Kim asks in her confession. "To just make up a lie and say she's away — it bothered me."
Watch the explosive fight on The Real Housewives of Beverly Hills, airing January 13 at 8p.m. on Bravo.