It's War! Vicki Gunvalson Rips Gretchen Rossi, Calls Her 'Big Fat Liar Face'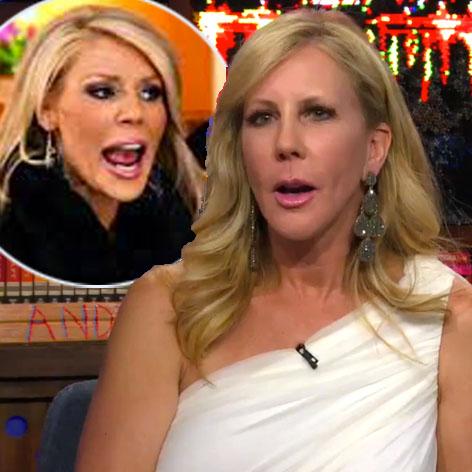 Article continues below advertisement
"It's becoming too fake with her and Slade," Vicki said about Gretchen and her fiancé.
"I don't dislike Gretchen I just think it is time for her to go."
Vicki has been going back and forth with Gretchen this season and she answered a question and told Andy Cohen that she believes Gretchen is not telling the truth about her.
"She said I banged 12 guys, I did it last night in the green room before I got here too! Where did she come up with that information? It's just a bunch of lies!"
Vicki continued and said why she believes she is Gretchen's target.
"She's feeding the fire because she wants me to be pit it the same pit she's in."
Vicki slammed Gretchen's dishonesty.
"She's a big fat liar face! She has no evidence. At the end of the day she can't prove any evidence and I can."
The Real Housewives of Orange County airs Mondays at 9/8c and Watch What Happens Live airs Sunday-Thursday at 11pm.