Real Housewives of Orange County: Vicki Gunvalson, Tamra Barney Deal With Relationship, Family Drama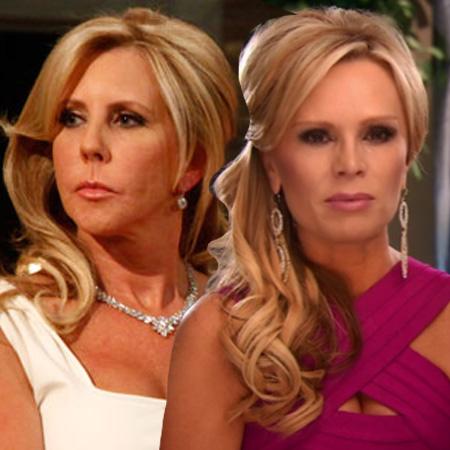 Vicki Gunvalson, Tamra Barney and all of your favorite damsels near Disneyland were back with a brand new episode of Real Housewives of Orange County Monday, and we've got the details for you right here on RadarOnline.com.
Viewers got a look at Vicki's ongoing tightrope walk as she continued balancing her relationship with on-again, off-again beau Brooks Ayers and her disapproving daughter Briana Wolfsmith-Culberson and marine son-in-law Ryan (who have been outspoken in their disdain for Brooks).
Article continues below advertisement
"The O.G. from the O.C." had lunch with Brooks, but things got a bit tense when Vicki wasn't able to join him for a weekend getaway due to a preexisting obligation to babysit her grandson. When she tried for a different weekend, Brooks was unavailable, as he had his own kids to tend to.
The Coto de Caza, Calif. native asked her sometimes-paramour, "Can I get a raincheck?" to which he responded, "Maybe if you're nice."
"I'm always nice -- until you pi** me off," Vicki told Brooks, who responded, "You don't want to piss me off either."
Later on in the show, we saw Ryan, headed to Afghanistan on an 11-month tour-of-duty, in his military regalia, a fitting sight for the Memorial Day broadcast.
Elsewhere, Tamra had a busy slate as well, looking foxy as she delivered a speech at a Los Angeles Women's Expo.
Afterwards, the blonde beauty engaged in an incredibly personal — and quite uncomfortable — exchange with her mother that might help explain the cause behind the anger issues she's admitted to: She was never told "I love you" by her parents as a child.
Article continues below advertisement
Tamra told her mother that her inability to tell her that she loved her has left a lasting impression on her. Her mother explained that that's how she was reared, and that "it becomes a habit," unfortunately.
Tamra said because of those scars, she's had a real tough time emotionally connection to others, both in romance and friendship.
"It's been one of my biggest challenges of my entire life," Tamra told her mom. "Do you know that it's hard for me to tell you that I love you?"
hulu id=1vnkdsernatk7nyilbie0a width=512
The two, on good terms, then exchanged the three magic words and a hug, giving the segment a heartwarming, Disney ending.
Watch the video on RadarOnline.com
The Real Housewives of Orange County airs on Bravo Monday at 9/8c.