Vicki Gunvalson Learns The X-Rated Truth About Ex Brooks Ayers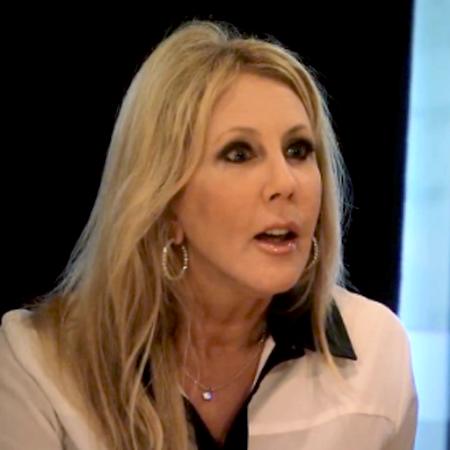 Article continues below advertisement
Lauri told her Brooks made the porn star's acquaintance at a poker party, where "he was throwing 100s to all these girls."
Lauri added she wasn't sure if the proper term for what was going on between Brooks and the adult starlet could be considered "dating," but she knew that "this girl … she's referring to him as a sugar daddy."
Vicki shot back at her, "Stop talking in circles … say what your saying … Brooks doesn't do that! … he doesn't date 20-year-old kids -- that's his daughter's age!"
Needless to say, Vicki was admittedly "devastated" at the development, even though she and Brooks were no longer a couple.
"You know what," she said, "I don't deserve that."
Feedback from Vicki's peers varied: Lydia McLaughlin said she felt "dirty" hearing the revelation while in a room full of wedding gowns, while Gretchen Rossi was grinning like a Cheshire Cat at the news, pointing out that Vicki had been unfaithful on both Brooks and her ex-husband, Donn.
"Karma's a b***h, isn't it vicki?" she said.
Watch the video on RadarOnline.com
The Real Housewives of Orange County airs on Bravo Monday at 9/8c.