'Miss Piggy' Vicki Gunvalson Puts Her Best Face Forward On RHOC Premiere!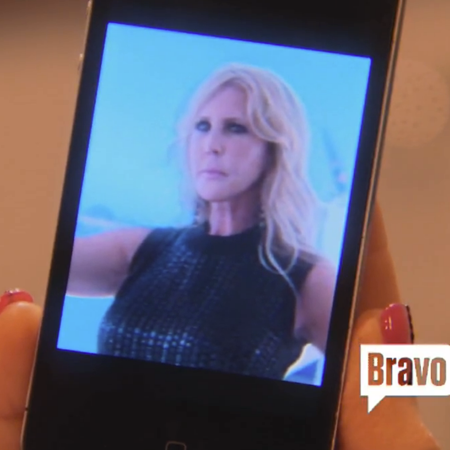 Monday night there were many familiar faces returning on the season premiere on The Real Housewives of Orange County, and one not so familiar face -- Vicki Gunvalson's! The housewife showed off her new plastic surgery on the show's 100th episode, and RadarOnline.com has the details.
"I'm all about renovating everything right now, whether it's my body or my home," Vicki said of her surgery, which had just taken place two weeks earlier. "And I decided, what can I do to build my self esteem?"
Article continues below advertisement
Vicki -- who was hurt when Slade Smiley called her 'Miss Piggy' during his standup routine -- went on to say, "I've been ridiculed that I look like a certain character, and it does hurt me. So I went to Alexis' plastic surgeon and I did some cartilage reconstruction on my nose, I had some fat injected in the upper part of my cheeks so I don't have anymore wrinkles, and then he did a little chin implant."
However, not everything went smoothly with her recovery.
"My face is still really numb," Vicki confessed. "I feel like one of those Muppets where half of it moved and half of it didn't."
Vicki also revealed that she kept her surgery very hush-hush from her friends -- and for good reason.
"I've not told any of the other women about my surgery," Vicki said.
"I know I'm going to be talked about. I'm going to own what I did to myself. It's my body, it's my choice, it's my money. Frankly it's none of their business. If they want to say something, they can say it to my face…my numb face."
And Vicki was right about one thing -- they may not have said anything to her face yet, but some of the other housewives were definitely talking about her.
"So seriously, I have to show you something," Tamra Barney said to Gretchen Rossi.
"I just want you to look at this picture and tell me what you think."
"Look at the chin…look at the nose!" Gretchen exclaimed.
Watch the video on RadarOnline.com
Tune in to The Real Housewives of Orange County Monday nights at 8/7c on Bravo.