Valerie Harper Has Terminal Brain Cancer, Has Only Months To Live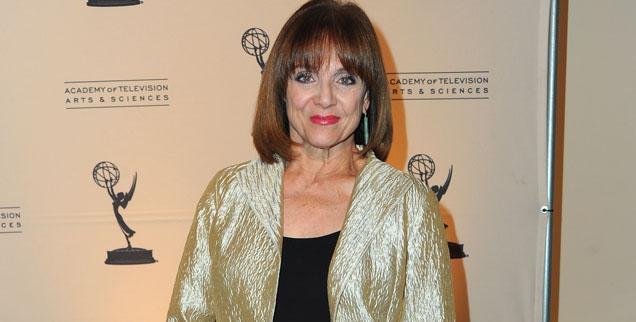 In a truly shocking revelation, beloved TV star Valerie Harper has announced she has terminal brain cancer, and only months to live.
Harper -- who first charmed audiences as outspoken New Yorker Rhoda Morgenstern on The Mary Tyler Moore Show and its spin-off, Rhoda -- received the devastating diagnosis on January 15, she reveals to PEOPLE in its new issue.
"All my life, people have had a connection to me because of Rhoda," she told the magazine. "Now there are things I want to share."
Article continues below advertisement
Harper, 73, said she has a rare condition called leptomeningeal carcinomatosis, a rare condition that occurs when cancer cells spread into the fluid-filled membrane surrounding the brain.
Sadly, doctors told her she has as little as three months to live.
The TV legend said receiving the grim diagnosis "hit me like a sledgehammer," calling it a "transformative moment" in her life.
"'Incurable' is such a concise word -- I was terrified," she said. "Cancer makes real what we try to obscure from ourselves. We spend our lifetimes thinking, 'I'm never going to die.' But cancer, says, 'Hey, not so fast.'
"I don't think of dying… I think of being here now."
Harper said she'll likely spent the next few months at her home immersed in her favorite hobby: gardening.
"The garden sounds good," she said. "I have plants I want to pull the yellow leaves off of, but I haven't because of so many things have taken precedence. But I think I'll give it one last whack."
Harper, who previously battled lung cancer in 2009, said she sees death "as a passage.
Article continues below advertisement
"I don't have a lot of certainty about reincarnation, but I have a lot of interest in what lies ahead."
Harper said she and Moore -- "a darling" -- have remained pals over the years.
"We talk on the phone about her dogs and laugh all the time," she said.
The announcement marks another sad milestone among Harper's brethren of the iconic sitcom, as Moore two years ago underwent brain surgery to remove a benign meningioma, while Ted Knight died in 1986 after a long and valiant battle with cancer.
On a happier note, Ed Asner continues to work at 83 on the Canadian TV show, Michael, Tuesdays and Thursdays, while Cloris Leachman, 86, has stayed rolling on shows such as Dancing with the Stars and Raising Hope. And of course, 91-year-old Betty White has never lost relevancy, hosting SNL as part of a nostalgic comeback three years ago and now stars on the show Hot in Cleveland.
An introspective Harper wrapped up her chat with the magazine with some life lessons.
"I think one of the many blessings in my life is that I've learned to drop bitter resentment," she said. "Life is amazing. Live it to the fullest. Stay as long as you can."
youtube