Long-Lost Video Surfaces Of Travis Alexander Doing The 'Chicken Dance' With Jodi Arias Taping It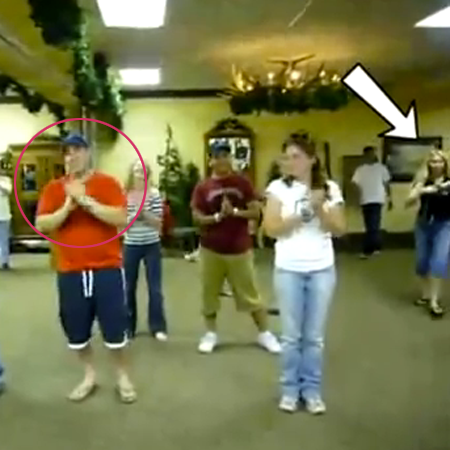 Rarely-seen video has surfaced of a happy Travis Alexander doing the "Chicken Dance" with other revellers at a party just weeks before he was found brutally murdered in June 2008. (Alexander is wearing an orange shirt, blue shorts and a baseball cap in the video.)
About 27 seconds into the video, a blonde woman -- who looks like Jodi Arias -- quickly runs in front of the camera; at one minute and 28 seconds into the video, she appears again when she tapes the scene with her own camera.
Article continues below advertisement
It's worth noting that during the second time we see Jodi, her ring finger does appear to look curved, as she's shown throughout her bombshell trial in Phoenix, Arizona.
Jodi, 32, has claimed that her finger was injured when Travis kicked her during an argument. The prosecutor has claimed it's an injury she sustained as she was murdering him. Another possibility is that she's had it for a very long time, even before meeting Travis.
Someone who apparently knew Travis uploaded the video on June 13, 2008 -- several days after Travis' body was discovered in his Mesa apartment on June 4, 2008.
Watch the video on RadarOnline.com
youtube
Meanwhile, Arias' explosive trial will resume on Wednesday after more chilling testimony Thursday, in which jurors were allowed to pose questions to her for a second straight day. (In all, jurors asked more than 200 questions of her – most pointedly, "After all the lies you have told, why should we believe you now?")
While Arias has admitted stabbing Alexander 29 times, slitting his throat and shooting him in the face, she claims it was in self-defense.
She's pleaded not guilty to first degree murder. If found guilty, she could receive the death penalty.