Tori's Misery: Candy Spelling Refuses To Help Pay Actress Daughter's Huge Bills
Candy is dandy but don't ask for money!
When the judge recently ordered Tori Spelling and husband Dean McDermott to pay a past due Amex bill of more than $88,000.00, the former 90210 star turned to her multimillionaire mom for help.
But according to a source, 73-year-old Candy Spelling, who is worth more than $600 million, turned her daughter down flat.
"For years Candy's done her best to help Tori out financially," the source snitched after Radar broke the Amex bill story.
Article continues below advertisement
"But these past few years, as the couple's debts increased, she bowed out telling Tori and Dean they were on their own."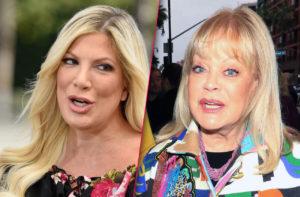 Candy and her late husband Aaron Spelling never wanted to enable their kids, Tori and younger brother Randy, by footing the bill for their lives, a family insider told Radar.
So, when 83-year-old Aaron died in 2006, he left just $800,000 of his then $500 million fortune to each his children.
"To expect we could continue to live the lifestyle to which we'd become accustomed on such a small amount was ridiculous," Randy Spelling told a friend. "We lived in a 123-room mansion in Beverly Hills, complete with a tennis court, swimming pool, indoor ice rink and a bowling alley. And you can't even buy a 1500 square foot, three-bedroom bungalow in a decent part of the San Fernando Valley for $800,000."
Article continues below advertisement
While 40-year-old Randy, a husband and father of two, finally managed to move out of Los Angeles and start his life over in Portland, Oregon as a Life Coach, Tori never learned how to live on a budget.
Just two years ago the McDermott's owed the IRS a whopping $707,487.30 for their 2014 tax bill. And in 2017 the IRS took action, draining the couple's bank accounts to get their money.
"Tori loves to spend," the source told Radar exclusively.
"In a way she's just like her Mom, who used to shop daily and had a room full of items she purchased that still bore the tags!
"Tori always figured that if she got in real trouble she could turn to her mom, but recently Candy's put her foot down and told her daughter that while she will be there for the kids, whatever future debts the couple incurred would be their own."
The source told Radar when it comes to Tori and Dean's five children, ages 1-11, grandma does help.
Article continues below advertisement
"Candy pays more than $72,000 a year for four of the kids to attend a private school," the source explained. "And she will take the kids clothes shopping, as well as help out with dental and medical bills. But when it comes to paying for purchases Tori and Dean make that they can't afford, she's done bailing them out.
"Candy feels that they've got to learn to live within their means, and if they have to learn the hard way, so be it."