Todd Tucker Addresses Threat To Leave Kandi Burruss: Everyone Has A Breaking Point!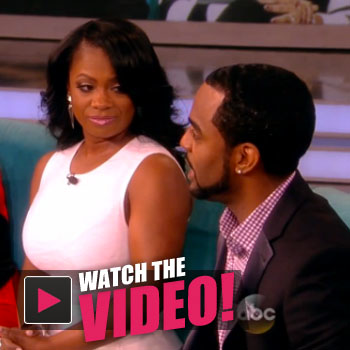 After The Real Housewives of Atlanta star Todd Tucker delivered a heart wrenching ultimatum to fiancée Kandi Burruss and threatened to leave because of her overbearing mother, the trio stopped by The View (and sat on one couch!) to confront their family drama.
Setting the record straight about his threats, Todd explained that he was blindsided to learned Kandi's mother Mama Joyce was apparently involved in a plot that would make him look like a cheater.
Article continues below advertisement
"I think everyone has a breaking point," he said on the The View.
"You know, the lies, that stuff is really tough. I have a mom and it affects my mother, it affects my daughter. It affects Kandi's daughter."
Seemingly unremorseful, Kandi's mom fired a list of her compliments about Todd. Ranting for nearly five minutes, the talk show hosts FINALLY cut her off, as Kandi began to cry.
She accused her meddling mom of trying to sabotage their relationship and said she needed to mind her own business.
"I didn't want to cry today. It is very frustrating.
"I love my mother to death… but I feel like you treat me like I am so stupid and have no sense of responsibility. It isn't fair," Kandi said.
Watch more of the family drama below: