White Hot Drama! Brandi Glanville & Adrienne Maloof Clash At Kyle Richards' Party Over Legal Action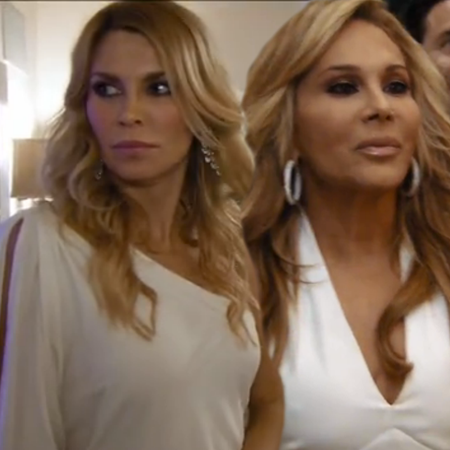 It's that time of year again on The Real Housewives of Beverly Hills for the infamous White Party! Kyle Richards' yearly get together has never been without drama, but when Brandi Glanville reveals proof that Adrienne Maloof sent a cease and desist letter to her, the drama skyrocketed to a whole new level, and RadarOnline.com has the juicy details.
As we previously reported, Adrienne adamantly denied ever sending Brandi any type of letter threatening to sue. But what Adrienne didn't bet on was Brandi and her BFF Jennifer Gimenez bringing the actual cease and desist letter to the White Party just incase Adrienne planned on lying.
Article continues below advertisement
During a heated conversation, Adrienne said yet again that there is no lawsuit. "Then why am I paying a bill," Brandi asked.
"In the letter here it said that if she didn't show up to the meeting, the lawyer would go about suing her," Jennifer said.
"No, no, no, no, that's not true," Adrienne claimed. "I have not taken legal action against her. What's legal action? Talking with your lawyer…everybody talks to their lawyer."
Maloof's then husband, Dr. Paul Nassif, however, didn't beat around the bush.
"Was she warned? Yes," he admitted.
"All I said was the truth," Brandi claimed. "So it's not slander. Maybe they should watch what they lie about."
Adrienne obviously disagreed. "You're just a loose cannon because you just say whatever," Adrienne said.
"Well welcome to the United f*cking States of America," Brandi exclaimed.
Watch the video on RadarOnline.com
The Real Housewives of Beverly Hills airs Monday nights at 8/7c on Bravo.