RHONJ Star Teresa Giudice Dishes On 'Fifty Shades' Sex Life Lessons And Jacqueline's Plastic Surgery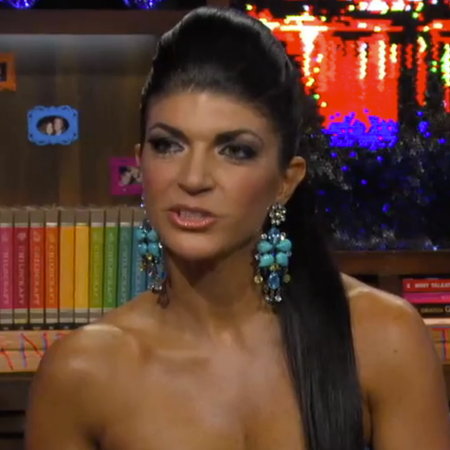 The Real Housewives of New Jersey firebrand Teresa Giudice never holds back and she was at it again on Sunday night--dishing about her wild marriage to husband Joe Giudice, co-star Jacqueline Laurita's plastic surgery, and other developments on her season premiere in an interview with Andy Cohen on Bravo's Sunday Watch What Happens Live.
Although her marriage came under scrutiny when Joe called her the C word last season -- and rumors flew about him cheating -- Teresa denied they were having problems. While fielding a viewer question on Sunday, Teresa said, "I don't make excuses for him and he doesn't treat me badly 'cause if he did--obviously you saw me flip one table. I would be flipping him right out the door! You're only seeing a small part of our life. Last season--it's not that we weren't in a good place. We weren't in a good place with the family and he would take it out on me and that's what a wife's all about."
Article continues below advertisement
And Teresa also implied they have a great sex life, as she revealed the last book she read was the notorious erotic bestseller Fifty Shades of Grey by E.L. James. Teresa told Andy she liked it and smiled, "It taught me a few things," confirming that she and Joe are very exploratory in the bedroom!
radar_embed service=bravotv src="http://www.bravotv.com/video/embed/?/_vid2650639" width="400" height="225"
Meanwhile, however, on the RHONJ 5th season premiere, Joe, famous for calling his wife names, was up to his old tricks, this time shown calling their feuding sister-in-law, Melissa Gorga, "horsey face" and a "stank ass" and "beyotch." Teresa admitted to Andy she cringed when she saw her husband's comments about Melissa on TV -- but also claimed, "Joe was kidding."
While chatting to Andy (who celebrated his 45th birthday on his talk show on Sunday night), Teresa told viewers that the couple, who have four daughters, are probably done having kids. "I don't want a little boy--Joe wants a little boy," she said. Although the 41-year-old reality star said she's thought about adoption, "It's a big process going through that. I don't know. You never know what the future holds."
Article continues below advertisement
Teresa updated fans on their Jersey Shore vacation home, which was damaged during Hurricane Sandy. "Joe redid the whole thing. We're almost done," she said, adding that they would be able to use the house again in "the next week or so. It wasn't my primary home. I feel bad for whoever lost their homes."
Teresa confirmed husband Joe has a July trial date for allegedly using his brother's information to get his own driver's license after his own was suspended. When asked if she thinks it will happen in July, she told Andy, "I have no idea. I guess you have to talk to his attorney."
radar_embed service=bravotv src="http://www.bravotv.com/video/embed/?/_vid2650637" width="400" height="225"
But the famed housewife was much more chatty when it came to RHONJ co-star Jacqueline Laurita, who recently had plastic surgery: "She looks great. She really does." When Andy said he didn't think Jacqueline needed any work, Teresa said, "I didn't think so, either, but she never showed her stomach so obviously, you know, there was something there." When the studio audience laughed, Teresa explained, "Meaning, she was insecure about it! If something bothers you, I'm all for getting it fixed. But I don't think she needed her neck done."
Article continues below advertisement
As far as Melissa goes, as viewers saw Sunday night, the relationship is still tense with Teresa, who is estranged from her brother, Melissa's husband Joe Gorga. "I know she wants to make things better," she said, adding about one of their many disagreements, "I never said that she couldn't sing. I was asked if I ever heard her sing and I never heard her sing so I'm not going to put her down because she is my sister-in-law and God bless her. If she wants to sing, I hope she sells a million records! I'm not going to knock her down. That would make me look bad."
Regarding her relationship with another housewife, Caroline Manzo, Teresa indicated things will heat up between them during next week's RHONJ, when the two women have a heart-to-heart discussion about Teresa's brother Joe Gorga. Teresa noted about Caroline, "I don't think we'll ever be friends again. I don't know. We're not friends right now but we're good. I don't want to be her friend, she doesn't want to be my friend, and we're good with that. We do communicate and you've gotta watch this season and see how it plays out."
And in a bizarre ending to Watch What Happens Live, Teresa's little daughter Milania presented Andy with a birthday gift--a little pony named Gus dressed up as a unicorn!