Is This Anyone To Get Legal Advice From? Teresa Giudice Pow Wows With Mafia Princess Victoria Gotti On RHONJ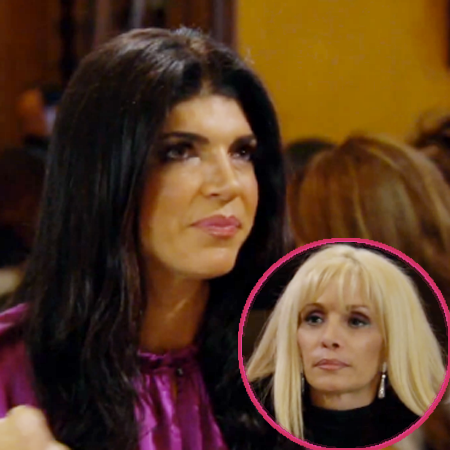 As the whole world knows, Teresa Giudice and her husband Joe were indicted on numerous counts of financial fraud this summer.
But incredibly, the star was seen getting advice from mafia princess Victoria Gotti the daughter of the late Gambino crime boss John Gotti, on Sunday's The Real Housewives of New Jersey!
Teresa, who met Victoria while doing Celebrity Apprentice, learned what it's like to have a husband go to jail, as the Gotti gal's former spouse, Carmine Agnello, served ten years in prison for racketeering.
Article continues below advertisement
When the two women met for lunch on RHONJ, Teresa told Victoria, "I don't want to talk about anything legal."
Teresa was referring to her husband's mess regarding an alleged phony driver's license -- little did she know then what more was to come!
"If things were to go bad with Joe, we know you're going to be there," Victoria said.
"Of course," Teresa chirped. "It's hard for me to talk about this because I don't know what the right thing to say is. Joe's nervous, I'm nervous, but you know what? We're strong and we're going to get through this."
Victoria confided, "I lived through that and my ex-husband, unfortunately, did go to jail for a long time."
The former Growing Up Gotti reality star advised Teresa to talk to her oldest daughter, Gia, about the situation.
"I wish I had done that with my children," Victoria said. "I let them go to school and read this crap. They'll send you from a room crying. You can't believe how affected they are."
Article continues below advertisement
Teresa told Victoria she did confide in Gia, 12.
"It's a good thing to do," Victoria said.
"A family is a family and it's going to go through strife.
"I lived through a trial and my ex was away for like eight or nine years. It's a mind set. I've learned to deal with it. As long as you stand at his side and have faith and know that it's going to be okay. And if it's not, you took your vows for better or for worse."
Article continues below advertisement
Penny finally spilled the beans to Melissa that Teresa was the one who had told her that Melissa never visited her ill father-in-law!
And as the episode ended, World War III erupted.
Penny -- who as RadarOnline.com has reported, first got into a confrontation with Jacqueline Laurita at the same party -- told Melissa, "There is a person who's talking so much garbage.
"The person who starts the s*** hides."
Melissa pressed Penny for details, asking, "You were tweeting at one point that I didn't go visit my father-in-law in the hospital. Who told you that?"
Penny pointed at Teresa and said, "She did!"
"No, I didn't," a shocked Teresa said.
"Did I ever speak to you? You're accusing me?!"
Teresa ordered Penny, "Put your finger down."
She replied, "You put yours down!"
"F*** you!" Teresa shouted.
"F*** you, too!" Penny yelled back.
Article continues below advertisement
"You're such a f***ng liar, b****!" Teresa shouted.
Penny said of Melissa, "I didn't bash her until you came into the picture."
She then said to Teresa, in front of the stunned Melissa, "Last year at the fashion show, you knew your sister-in-law was going to be set up. You wanted to destroy her."
Meanwhile, in another Sunday RHONJ plot, Melissa had to sing live for a Florida radio station to prove she was worthy of record stardom.
Although she still sounded pitchy while warbling Never Let Me Go, Melissa was offered the opportunity to perform at the radio's upcoming concert in front of 150,000.
And her husband Joe Gorga gushed, "I always knew Melissa was a star and I've always seen in talent in her.
Watch the video on RadarOnline.com
"People say 'Your wife can't sing.' I don't care. This is dream and I'm backing her up. I believe Melissa can be the next Melissa Gaga," Gorga said.
Teresa, who was listening on the radio, told Bravo's cameras that Melissa sounded good but shrugged, "It's not every day that a thirty-something becomes a pop star, but maybe there's a first time for everything."