Bad Blood In New Jersey! Melissa Gorga Deliberately Snubs Teresa Giudice During Birthday Speech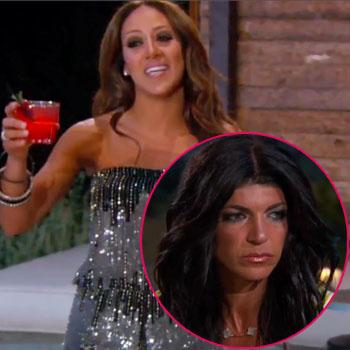 In the upcoming episode of The Real Housewives of New Jersey, Melissa Gorga delivers a very endearing speech to her fellow comrades complimenting everyone around her for how much they mean to her.
But there is one person who she forgot, or deliberately did not mention: her sister-in-law Teresa Giudice, who she was supposedly in a better place with at this point during the season.
"I'm happy to spend my birthday with all of you and my new friends that now I feel are becoming older friend and I feel like I know you guys a lot better now," Melissa says.
Article continues below advertisement
GALLERY: The Giudice's 30 Most Shocking Quotes About Fraud & Finances
She first compliments Kathy Wakile: "And Kathy I want you to know that I appreciate you and your friendship."
Kathy's husband Rich Wakile comes next.
"Rich, you just need to be a little bit better husband," Melissa jokes. "No Rich, you know I love you. You're like so good with my kids and you always grab them and hug them and play with them. And I know notice things like that and you love my children."
Melissa even has some kind words for her husband Joe Gorga and her brother-in-law Joe Giudice: "Joe and Joe really bonded I think."
Kathy's sister Rosie Pierri even earns some praise.
"And Rosie, I think we all fell love with you more than we already were," Melissa says.
Melissa finishes the speech with, "So thank you guys for coming. Cheers! Let's eat cake."
Melissa does not mention Teresa at all — and Caroline Manzo is quick to point this out.
Article continues below advertisement
"I don't know if it was a deliberate snub, I don't know," she tells the cameras. "But that moment just clarified to me that I was right all along: nothing got resolved. It's just, 'Let's do this so we can say we did it. Yeah we went to therapy. We went to Arizona. We did this. We've tried everything.' It's not going to work. It's not going to work because nobody's telling the truth.'"
So much for moving forward and putting the past behind them!
Joe concludes as he is talking to Teresa, "We've had issues. I know you didn't like my wife… And then this cheating thing comes out. She's been bashing us on Twitter. She said my wife cheated on me. We have these enemies that we don't even know saying stuff about me that nobody knew."
Joe thinks that Teresa fed the gossip to the smack-talker, but Teresa completely denies her involvement.