'I Don't Belong There!' Joe Giudice Admits He's Freaked Out By Prospect Of Going To Prison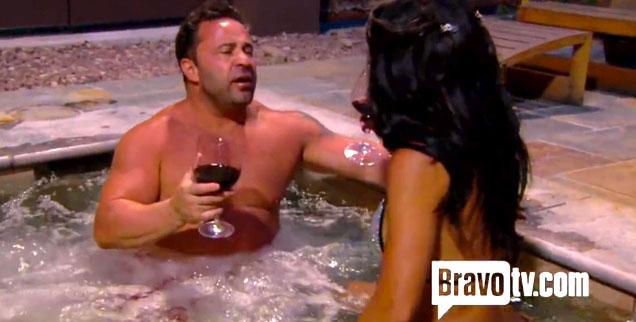 Article continues below advertisement
"He responds to one thing: authenticity," the horse's handler tells the group in one video.
GALLERY: The Giudice's 30 Most Shocking Quotes About Fraud & Finances
He then addresses his attentions to Joe Giudice. "What have you been scared of?" he asks Teresa's hubby.
"I think everybody has a little fear of something, you know what I mean?" Joe responds. "I just got lawyers involved and stuff like that."
These comments totally stun the group.
"I am totally shocked that Joe would bring up those legal issues," Joe's brother-in-law Joe Gorga tells the cameras. "This is a big step for Joe Giudice."
Back in their hotel room, Teresa and Joe continue the conversation about his fears of his legal issues.
"I have to say that was really big of you to say that in front of everyone like what your fear was," Teresa tells Joe.
Article continues below advertisement
"Yeah it's, you know, it's always there," Joe admits. "You know what I mean? You get up thinking about it, and so, um… When you let that out you're kind of like a little relieved, you know what I mean?"
Joe maintains that he hasn't been involved in criminal activity, but that he is still fearful of going to prison.
"It's not like I'm a f***ing criminal like where I've been in f***ing prison a million f***ing times," he says. "Never killed nobody, never f***ing did anything… you know to hurt anybody, so I don't belong there and I don't want to go there."
Teresa sounds just as worried about the pending legal issues.
"If he's scared of something, it makes me scared of something," she says. "I can't imagine my life without him."
The rest of the housewives are dealing with their own fears.
In previews, Caroline Manzo's husband Albert Manzo breaks down in tears when the horse handler asks if he has been abused.
And Jacqueline and Chris Laurita are still trying to figure out their tumultuous relationship with Teresa.