Conspiracy Theorist? Teresa Giudice Accuses Brother Joe And Wife Melissa Of Joining RHONJ 'To Take Me Down'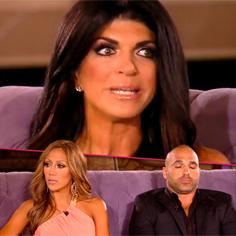 Teresa Giudice has questioned whether her brother Joe Gorga and her sister-in-law Melissa Gorga joined the cast of The Real Housewives of New Jersey with one goal in mind -- to trash her image.
"Joe, you are my brother, so it's human nature to listen if someone is talking about your wife," Teresa says during part two of the season five reunion -- a preview of which we have below.
But Melissa jumps in and clears the air — and it emerges the turmoil in the family all goes back to the notorious christening when Joe Gorga went on a wild rampage!
Article continues below advertisement
"If you weren't at that table that night, it would not be on national TV," Melissa accuses Teresa.
"Then why are we filming together?" Teresa asks. "You saw what happened between Dina and Caroline Manzo. It broke a family apart."
Joe denies that filming is what has caused their issues.
"No, no, no, no, it doesn't have to be that," Joe says.
But Teresa continues on with her with her point.
"It built to this. What you guys saw on TV, I never wanted that to happen. I was hurt, you guys came on the show, I felt like to take me down," Teresa says. "We were four hours into filming and that breaks out at the christening. That was not something that I wanted my kids to see. I felt like you guys came on the show to take me down and make me look like the villain."
Melissa then tries to tell Teresa that wasn't their intention.
"You keep saying that and we keep saying that's not true," she says.
Teresa still doesn't believe Melissa and Joe though — and she questions why they are out to get her.
"Tell me what I've done for you to come on the show the first four hours into filming and that happened at the christening," she says. "That's never ever happened in our family, you know."
Joe also shares his thoughts on the situation.
"Listen, the christening, supposedly I look like a maniac, but I have to explain why," he says. "So for two years, you axed me out of your life. We got on a show and I heard that you finally signed a contract that day because it was our christening and you had to come. And how I felt that you wanted nothing to do with me, but then when the cameras are on, you were all like, 'Hi!' and 'How are you?' and I lost my mind."