Outrage! Texas Teen Gets 10 Years' Probation For Driving Drunk, Killing 4… Because Of Extreme Sense Of Entitlement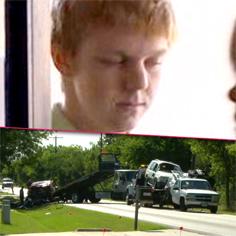 In a story sure to outrage some, a 16-year-old Texan will not serve any time behind bars after killing four people in a June car accident in which he was drunk to the tune of .24 -- three times the legal limit for an adult in the Lone Star State .
Ethan Couch's booze-fueled joyride killed victims Pastor Brian Jennings, Hollie and Shelby Boyles; and Breanna Mitchell, pedestrians the imbibed teen smashed into in his pickup in Burleson, Tx; two passengers riding in the back of Couch's also suffered injuries -- one severe brain trauma, the other internal injuries.
Article continues below advertisement
While prosecutors were pushing for the youth to spend 20 years in custody, defense attorney Scott Brown pulled off the unthinkable, persuading Judge Jean Boyd to sentence the teen just 10 years of probation, under the rationale that he suffered from affluenza -- a sense of entitlement so extreme, due to his family's wealth, that he had no concept of consequence.
"His family felt that wealth bought privilege and there was no rational link between behavior and consequences," psychologist G. Dick Miller testified on behalf of the defense.
In his victory lap after the Baez-ian miracle, Brown pontificated that what's done is done, and Couch's suffering wouldn't ease the pain of the victims.
Watch the video on RadarOnline.com
Brown said the "sentence that is going to keep Ethan under the thumb of the justice system for the next 10 years, and if Ethan doesn't do what he's supposed to do, if he has one misstep at all, then this judge, or an adult judge when he's transferred, can then incarcerate him."
"Our thoughts and prayers are with the families and we regret that this outcome has added to the pain and suffering they have endured."