'She Thinks She's The Biggest Star On The Planet!' Drunken Taylor Armstrong RIPS Farrah Abraham On 'Couples Therapy'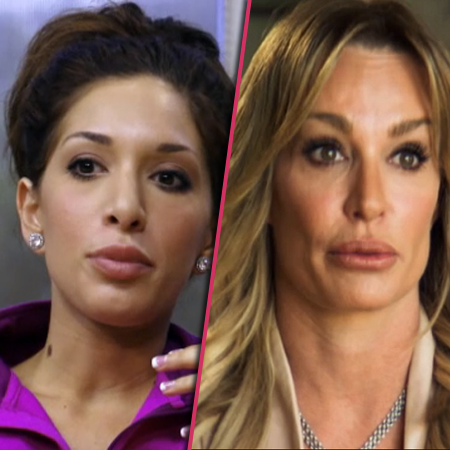 It was Real Housewife versus Backdoor Teen Mom on VH1's Couples Therapy Thursday night.
During the show, viewers saw former The Real Housewives of Beverly Hills star Taylor Armstrong go on a drunken tirade against Farrah Abraham.
After Armstrong knocked back some drinks during a group outing to a bowling alley -- and got offended when Abraham ordered food before everyone else, she told the TV cameras, "Farrah doesn't have any idea who she is, what she's doing. She thinks she's the biggest celebrity on the planet."
Article continues below advertisement
And earlier in the episode, Armstrong had said of Abraham, "She could be the most self-absorbed human being I've ever met."
In fact, the Teen Mom turned porn star told her other Couples Therapy housemates she was writing two more books in a "trilogy."
Abraham, who has already written a memoir, said she's writing an erotic sex novel and a Christian parenting guide, amusing The Real L Word co-stars Whitney Mixter and Sara Bettencourt.
But Armstrong scoffed in confessional, "She's got a trilogy? I'm 42-years-old with a lot more money than you, baby, and I couldn't do all that."
Abraham, 22, told the group about her books, "I'm young and I really should be taking advantage of that. I don't care that I do a lot. It is what it is."
Armstrong openly mocked her over dinner, "I don't know any triologys except Star Wars."
The former Teen Mom said on camera she didn't know how to deal with an older woman being disrespectful towards her: "If you drink and act rude to people, I have a hard time with that. I'm not talking about how old they are, and the lack of things they've done."
Article continues below advertisement
Later, Armstrong, also known for her drunken antics on RHOBH, went berserk over heat being pumped into her room in the Couples Therapy house.
"The food sucks, the room sucks, it's as hot as hell," Armstrong complained to her fiance, John Bluher, who is appearing on the VH1 show with her.
Both Armstrong and Bluher then ranted at the Couples Therapy staff, who work for psychologist and host Dr. Jenn Berman.
"Figure it out. You better get on it," Bluher told a production assistant.
"We're used to living above this standard!" Armstrong said.
At the end of the episode, the frenzied former housewife struck the camera with her hand, shouting "Get your f***ing camera out of my face!" -- and threatened to walk off the show.
It was a far cry from earlier in the episode, when Armstrong shared with Abraham how she had found her former husband, Russell Armstrong, hanging after he'd killed himself. She told the ex-Teen Mom not to beat herself up over being stood up on the show by her "boyfriend," Brian Dawe.
Article continues below advertisement
But as RadarOnline.com readers know, Dawe has revealed how Abraham convinced him to pretend to be her boyfriend for the VH1 cameras--and at the last minute, he decided he couldn't go through with it
Also on the show, Abraham recalled in group therapy how judgmental her mother was when she considered abortion as a teen mom.
She recalled her mom telling her, "You're not going to kill a living thing."
Dr. Berman said, "You weren't ready for a baby," as Abraham broke down in tears.
When Dr. Berman met with Abraham later in private therapy, she stuck to the story that she's long told about her notorious sex tape.
Although she didn't mention his name, Abraham indicated that porn star James Deen was her boyfriend, and the tape, which was supposed to be private, got leaked instead.
"He just kept talking about it," Abraham recalled. "I wasn't thinking 'this is getting out.' "
She said, "I really need to figure out what the f*** am I doing to myself. It is not okay."
"Is there something wrong with me?" she asked Dr. Berman, and started to cry.
But so far, Armstrong appears to be the biggest Couples Therapy train wreck--at least until Jon Gosselin shows up as expected next week!
Watch the video on RadarOnline.com: