Taylor Armstrong: Adrienne Maloof's 'A Liar, And I'm Tired Of The Lies!"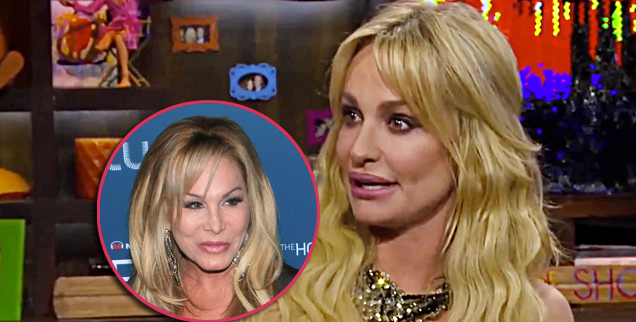 On Monday night's edition of Watch What Happens Live, Taylor Armstrong made it clear she's upset at Adrienne Maloof for her decision to send Brandi Glanville a legal letter, then dilly-dally around the facts when confronted with her actions.
"Adrienne's a liar, and I'm tired of the lies," Taylor told host Andy Cohen. "I would like for her to admit that there's either a letter or there's not … I think it's either true, or not, and Brandi has the letter!"
Article continues below advertisement
Asked by an after-show caller about the rift between Adrienne and Brandi, Taylor said, "I don't agree with what Brandi did, but at the end of the day, friends don't sue friends."
To drive the point home, Taylor also took to her Bravo blog Monday to explain how her empathy for Brandi stems from the personal experience "as a single mom having been through expensive litigation.
Taylor further ripped Adrienne for what she called "three years of deception."
"She denied agreeing to be Kennedy's godmother on the steps of a church," Taylor wrote. "Lie. She didn't back me when she knew I was being abused. Brandi has no filter but …
"'Friends don't sue friends!' Right, Adrienne?"
Watch the video on RadarOnline.com
The Real Housewives of Beverly Hills airs on Bravo Mondays at 8/7c; Watch What Happens Live airs Sunday through Thursday at 11/10c on Bravo.