RHOC: Tamra Judge Falls Off A Mechanical Bull And Hurts Herself At Heather Dubrow's Hoedown -- After Frenemy Hostess Heather Makes It Go Faster!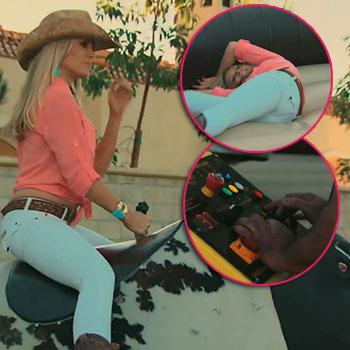 Article continues below advertisement
Control freak Dubrow got upset when Shannon Beador showed up late — and Judge didn't support her point, and instead, went around gossiping behind Dubrow's back to the other housewives.
Dubrow and Judge have clashed all season, and Dubrow tearfully complained to her husband Terry, "I'm tired of being judged. I don't judge Tamra."
Terry then accused Barney of not standing behind his wife!
"Did you come over to fight your wife's battles?" Judge told the cameras about plastic surgeon Terry. "You're such a chick!"
At the end of the episode, some of the ladies rode a mechanical bull at the hoedown without incident, including Dubrow.
But before Judge got on, Dubrow was heard telling the man at the controls to "turn that up!"
Judge couldn't cope with the bucking bull and tumbled to the ground, injuring herself.
The blonde beauty told everyone, "I think I might have broke my arm. I feel like I'm going to faint."
Dubrow expressed concern — but also laughed, "Oh, sh*t, she's going to sue us!"
Article continues below advertisement
She also implied to the crowd that the operator was to blame for making the mechanical bull go too fast.
Judge decided she should get her aching arm checked out at the hospital and walked to the car with Eddie.
"Did someone tell them to go faster?" a baffled Judge asked her husband. "Why did he crank it up on me?"
While Dubrow looked pensive back at her hoedown, Judge joked with Eddie about her fall, "This hoe went down!"
Luckily, a doctor, who took an X-ray at the hospital, told Judge she had no broken bones and had merely suffered soft tissue damage. But the real damage appeared to be in the housewives' friendship!
Also on Monday's episode, Beador was taken aback that her husband David was drinking and talking to a hot blonde at the Dubrows' hoedown.
"David, just a little FYI for the future — if you're talking to a female, it's frickin' rude not to introduce your wife and keep saying, 'Let's do a shot, girl,'" an exasperated Beador fumed.
Faked Scenes, Lies & Payoffs – The Ultimate Guide To Reality TV Shows
She also didn't like Dubrow scolding her for being tardy to the party, especially because it was David's fault as he'd taken their daughters to basketball practice.
"I don't understand this constant humiliation I have to endure," Beador told the cameras about Dubrow's fancy pants attitude.
The Real Housewives of Orange County airs on Bravo Monday at 9/8c.