Sur Lounge Sex Scandal! Jax Caught With His Pants Down Having Sex In The Restaurant Bathroom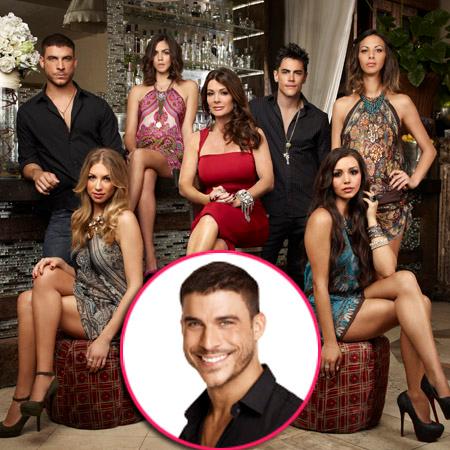 The cast of Vanderpump Rules really steamed up the TV screen when SUR Lounge bartender Jax Taylor and wacky waitress Laura-Leigh got caught with their pants down, and RadarOnline.com has all the racy details.
Lisa Vanderpump and her husband Ken Todd were enjoying an afternoon at their Beverly Hills home when Ken asked one simple question…
"Did you hear the rumor that security walked into the bathroom at Sur Lounge, and Jax and Laura-Leigh were naked in the bathroom having sex?" Ken asked.
Article continues below advertisement
"I cannot believe they're having sex in my restaurant," Lisa said.
"So they clock in, and then they f**k in the bathroom. I mean is this what I'm paying them for?!"
Of course later at SUR, Lisa summoned the new couple into her office.
"I heard on good authority that you got caught with your trousers down, literally," Lisa explained.
"I don't even know where this is coming from," Laura-Leigh defended. "If I was going to have sex with him here, I would lock the door."
Finally, Jax fessed up…but only in his post interview!
"Yeah, we got caught having sex in the VIP bathroom," he confessed. "I really like my job, and I want to keep my job, so I'm sticking to my story."
Lisa, however, isn't as naïve as they thought.
"They know that I know, but unless I actually go in, and I catch them in the shagging act, what can I do about it?" she said. "I'm going to have to let it go."
Article continues below advertisement
But bartender Frank didn't get off the hook so easily after he had some harsh words with a customer, who became upset for being overcharged for his double cocktails.
"I am really pissed off," Lisa vented.
"I spent my life creating an amazing atmosphere at my restaurants, teaching my staff to be polite, and then this a**hole screws it up by being aggressive with a customer."
Frank tried to argue, "If I insulted the customers, then I wouldn't get tipped the way I do."
"I've had enough Frank," Lisa said.
"I'm glad this is only playtime to you, because it's not playtime to me. I'm going to make it easy for you…I'm firing you."
Watch the video on RadarOnline.com
Meanwhile, Frank's relationship with Stassi is already on the rocks after the two fought after coming back from meeting her parents for the first time.
Tune in next Monday night at 9/8c on Bravo to see who still has a job and who still has their pants on.