Exclusive
'Stuttering' John Melendez Tells All On Artie Lange's Deep, Dark & Twisted Life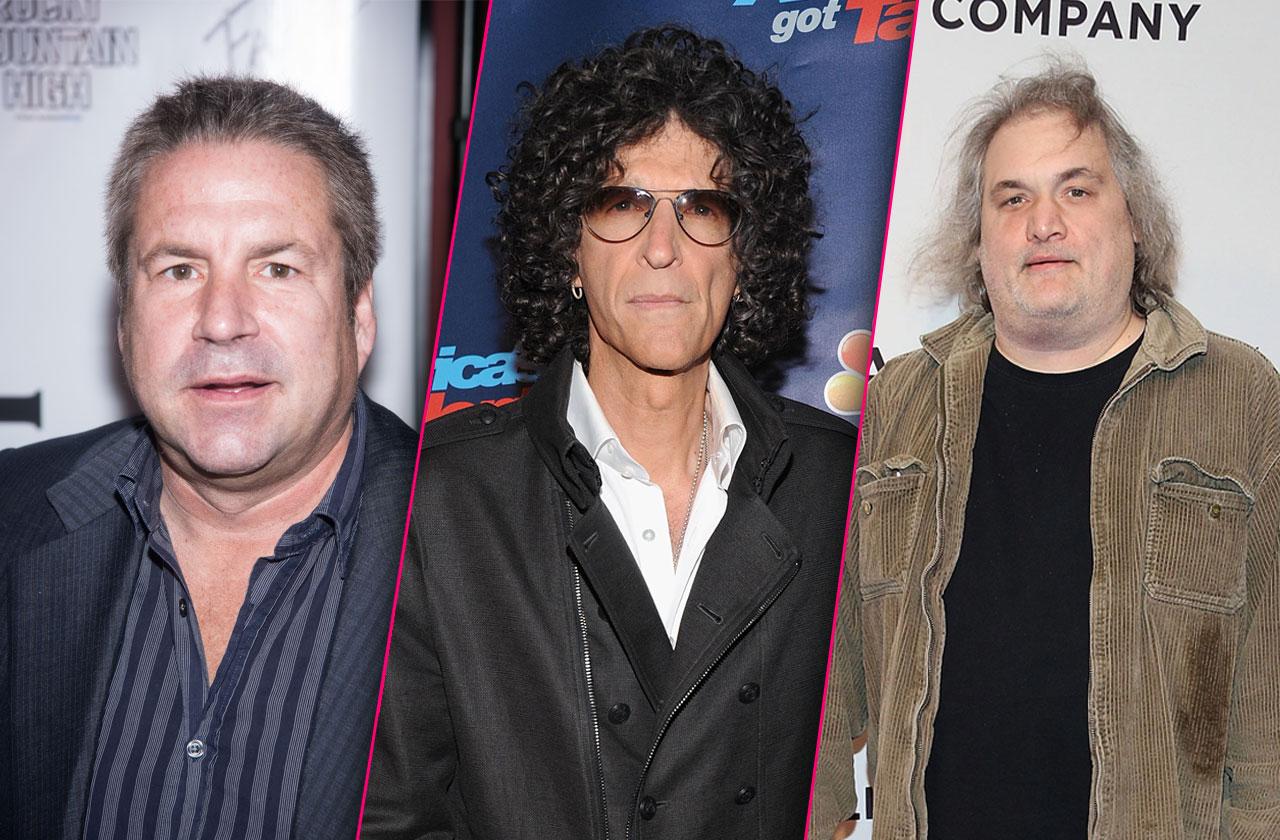 Stuttering John Melendez — a former longtime writer for The Howard Stern Show — dedicated his entire first podcast to Artie Lange on Sunday; and it's deep, dark and twisted.
The podcast, which is also titled after his nickname, Stuttering John, spent a whole hour discussing his heated relationship with his longtime friend and colleague who had worked alongside him on The Howard Stern Show for years, RadarOnline.com has learned.
Article continues below advertisement
John started the show out telling listeners how Artie had backstabbed him, but initially had liked him so much more than the rest of his former Stern colleagues.
"Artie Lange, my good buddy, my backstabbing friend Arthur the fat f**k Lange — but lets be really nice about this though because I love Artie, I will always love Artie; I have loved Artie since the first time I met him when he came to the Stern Show and he said to me, 'I saw the trailer for your new movie,' Artie was like "I'm such a big fan of yours' Artie was so humble, and that's what I like about him. He really was truly a nice guy."
But John's outlook of the comedian took a turn when Artie believed he was after Jackie Martling's seat, who had been the lead writer for The Howard Stern Show at the time.
"For some reason he thinks that I wanted to sit in the Jackie chair, and that I didn't want him Artie there, and I was jealous," John said. "Here is the truth: I didn't want the Jackie chair, I didn't. I wanted to write for the show — which I did. I wrote from my computer in the office. He's managed to believe that's what I wanted and I think that's where the hate comes from."
Article continues below advertisement
John then recalls the first time he had seen Artie snap and realized that drugs may have been the reason for the spontaneous outburst.
"I don't know if he was on sh*t. See I never thought that Artie was doing any drugs at the time but after the show we are all hanging out in Artie's hotel room - at the improv - me, Artie, Florentine — the owner of club — we are all there, and Artie out of nowhere snaps. Yes he drank a lot of Jack Daniels. He started yelling, 'why do you have a bigger room than me! F**K you,' and all this crap out of nowhere. He came out of nowhere like some Tasmanian crap - Jeckyll and Mr. Hyde. He's just f**king hysterical."
Artie later apologized to John. But John described a following incident when Artie attempted to drive home from a party at Colin Quinn's house — a well-known stand up comedian — while under the influence.
"We are all really drunk and all of a sudden Artie wants to drive back to Jersey and I stood in front of the door to stop him, and he snaps again. He's like 'give me my f***king keys!' And I was like 'Artie I don't care what you do, you ain't driving man.' I didn't want him to kill himself. So we got someone else to drive us to someone's place and then we all took a cab home."
Article continues below advertisement
Later in his podcast, John detailed the horrific experience of when Artie had attempted suicide while they were touring in Las Vegas together.
"I was shooting an Access Hollywood piece down at the black jack table. The head publicist of The Tonight Show...she comes up to me and says Debbie the executive producer wants to talk to you. I'm like 'can I finish this shoot?' She goes no, now. So they walk me downstairs, and while they walk me down, this cameraman James — I remember everything — he's eating a bagel, that's how much I remember it — says 'hey man sorry about your friend Artie', And I go like 'what?!' So I go and sit on a couch and she's like 'John i just want to say I'm very sorry but your friend Artie passed away.' I lost it – started crying, I got on the phone, called the Hard Rock, told them to go up to Artie's room right now, bang on the door. I was losing it and everything! So for me, I already experienced his death once."
John admits it wasn't until he was invited to Artie's home to appear as a guest on his new podcast that he really realized Artie had a serious drug problem.
Melendez, who insists Artie's producer Dan enabled his habits, recalls of the meeting, "Artie says he'll be right back. He goes into the bedroom and he's in there for like 20- minutes...comes back out, we are now on the air, and his nose starts bleeding profusely. So I'm giving him paper towels and napkins. You know I don't want to out him on his own show. I don't like how he's treating me, but I don't want to out him on his show. I hand him napkins, he would keep wiping and he doesn't even acknowledge it. So after the show, Artie would go back in his bedroom, and I go to Dan, and say 'Dan look I love Artie, I don't want to bring this up in front of him because I don't want him to go crazy on me, start screaming, because you know he gets violent. Just tell me is using again? Is he doing f**king coke? Is he doing drugs again? Is he doing heroin again?' Dan gives the standard non-committal answer. He goes 'I've never seen any drugs here' What a f**king d**k — like obviously he's doing drugs, c'mon!"
Article continues below advertisement
Towards the end of the show, John would later highlight the moment his relationship with Artie deteriorated as he continued to "bully" John. The comedian opened up about the last time he went on Artie's podcast and how it was then that he'd finally reached his breaking point. He recalled airing personal details of Artie's suicide during the pre-recorded podcast, "I go 'Artie uh how was it drinking that bleach?' Yeah do I regret it now? Yeah but I wanted to shut that fat f**king bastard up. There was just silence, dead silence. I said 'Artie how was it stabbing yourself six times, seven time?' Artie was like 'oh you're making fun of me' and then he started doing his shit again. So i said 'the only reason why your fat ass is alive is because your mother came over to the house to bring you chicken parmesan and she found your bloody a** in bed.'
After that, Artie and John would not speak for a while. It wasn't until they found themselves in a heated argument on Twitter, where John later observed a picture of a defeated looking Artie.
He said on Sunday's podcast, "Somebody shows me a picture of Artie," John said. "And he looks so bad — so bad. This was before he got arrested, I think. He looked so bad, he looked like an old lady to me, he really did."
Article continues below advertisement
"So I wrote on twitter 'I'm not going to goof on Artie anymore, I love the guy, I don't want him to die. I wish him well. And that's how I feel."
Artie would later reach out to John on Twitter and apologize. John by the end of his first podcast would close out directly addressing Artie.
"So Artie — if you're listening – I love you. I'm sorry if I hurt you that time," John said. "I just want to end this. I'm glad you reached out to me on Twitter. "I love you... lets just be friends like we used to."
Catch the Stuttering John podcast on iTunes now.
We pay for juicy info! Do you have a story for RadarOnline.com? Email us at tips@radaronline.com, or call us at 800-344-9598 any time, day or night.