Superstars' Plastic Surgery Secrets For Sale — Cher, Springsteen, Elton & More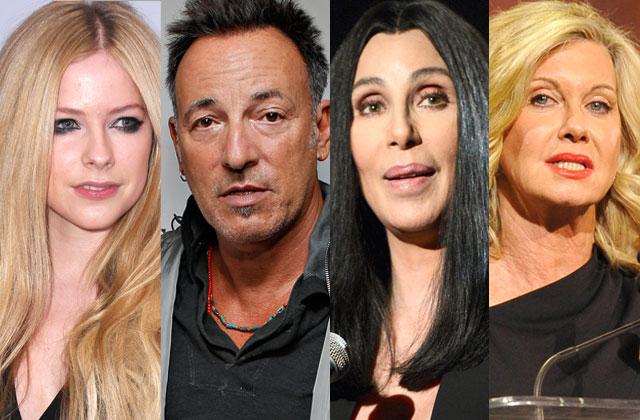 A ghoulish Hollywood garbage man was peddling Tinseltown stars' most deeply held medical secrets — until RadarOnline.com stopped the rogue's trash-for-cash scheme in its tracks with a sting!
The sanitation specialist runs a business whose sole purpose is to pick up ultra-sensitive documents his clients don't feel comfortable placing out with their regular trash.
Many of his clients are A-List Hollywood doctors who cater to the town's celebrities — and want to protect patients' most private medical files by using his services.
Article continues below advertisement
But instead of disposing the medical files, as he is paid to, Radar learned the villain shopped them to the highest bidder among numerous media outlets.
The sleazy spy insisted the files corresponded to stars like Cher, Bruce Springsteen and Olivia Newton-John, although the rogue also claimed to have "storage containers" filled with thousands of other celebrities' records ready for sale, including those of Michael Jackson, Elizabeth Taylor and Elton John!
After the "garbage man" contacted Radar in a shameless bid to hawk his wares, we arranged an undercover sting at our Hollywood bureau.
Indeed, while Radar has an illustrious history of working with tipsters to expose Hollywood hypocrisy, we declined to purchase celebrities' confidential medical files when two intrepid reporters met the foolish fiend.
"He shuffled in with a grown, although young, man he claimed was his son," said one of Radar's reporters. "He was in jeans and a T-shirt and a baseball hat that was pulled down very low across his brow so I couldn't immediately see his whole face.
Article continues below advertisement
"I could tell right away he was a seedy, creepy dude who would have absolutely no qualms about betraying the very people whose secrets he was paid to protect. He made my skin crawl!"
During the meet, Radar saw the private documents of two A-list patients that were proffered by the rogue as samples representative of his vast celebrity trove.
One was singer and Grease star Olivia Newton-John, who had a procedure done in 2008 — and the other was pint-sized pop princess Avril Lavigne ,who had work done on her ears in 2005 following a just-completed tour.
"He was edgy and nervous throughout the entire affair," said Radar's journalist.
"He kept insisting we not take photographs of the files, although little did he know we had snappers hidden at that very moment who were photographing from afar!" said the reporter.
"He was definitely a shifty fellow — and I've dealt with more than a few over my years in journalism."
While Radar is withholding the man's name, Radar has forwarded along details of his illicit plot to the celebrities who would be negatively impacted by any sale.
The Radar reporter explained the garbage man did not name a specific price for his ill-gotten garbage — although he did note that some files he had previously sold had brought in excess of $257,000.
"It feels good to do good," said the scribe.
We pay for juicy info! Do you have a story for RadarOnline.com? Email us at tips@radaronline.com, or call us at (866) ON-RADAR (667-2327) any time, day or night.