'RHONY': Sonja Morgan Blasts Ramona Singer Over Their Friendship, While Love Rat Husband Mario Singer Brags, 'The Best Cheaters Get Away With It!'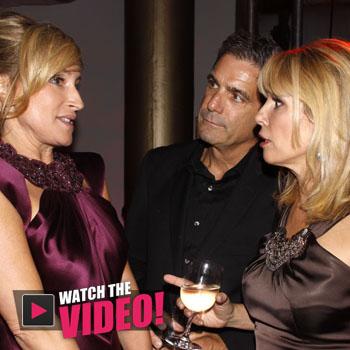 Sonja Morgan and Ramona Singer had a major falling out on Tuesday's episode of The Real Housewives of New York City, after Morgan revealed she could be forced to sell her beloved townhouse after suffering a huge legal and financial setback.
Trying to juggle multiple projects to raise income, Morgan tried to explain her woes.
"No one ever wants to file for bankruptcy. I'm not losing my house," she stated.
Article continues below advertisement
Singer tried to support her pal but admitted the Bravo cameras: "Sonja is spreading herself too thin."
Once at Singer's Hamptons home, the BFFs faced off in a heated argument.
"I have fabulous parties to go to tonight where people appreciate me, who I've known just as long if not longer than you, who think I'm talented and don't say 'You have your hand in too many pots,'" Morgan, 50, ranted leaving Singer, 56, speechless.
"I'm sorry, I should have zipped it," she apologized.
But Morgan refused to let it go.
"Do you think money grows on trees? Because it most certainly did not come from a divorce settlement," said Morgan, who was forced to file for bankruptcy because of the $7 million judgment after being sued by Hannibal Pictures for failure to raise money for a film involving John Travolta.
"You couldn't handle a day in my life, Singer. Not one day. You would fall apart. And you don't have a lawsuit, you don't have a divorce, you don't have a custody battle, you're not a single mother.
Article continues below advertisement
She continued, "You don't know overwhelmed. I'm keeping my sh*t together, and I need you to be a friend and not make those kind of negative comments, because you should know better than anyone in this room."
Meanwhile, Kristen Taekman got into a heated exchange with Aviva Drescher after she refused to "pick sides" in the "Bookgate" scandal.
"If you're going to say you're not going to get involved, then shut the f*ck up!" Drescher told her in front of their young child.
Shocked, Taekman's jaw hit the floor.
"Everyone has told me you're crazy, and you're showing me that right now," she said. "I want to be your friend and don't want to get in the middle, and you're screaming at me?!"
Drescher scoffed: "Maybe I attract drama ... I'm done talking about it."
"Now that I've seen her crazy, I'm keeping her at arms length," Taekman told the cameras.
Later, Taekman became a victim of the "Singer stringer," after trying to get involved in the other ladies' drama. She scolded Singer for RSVP-ing and then not showing up to Heather Thomson's 10-year anniversary party.
Article continues below advertisement
"You really should have said you weren't coming," Taekman said to Singer.
Singer got in her co-star's face — clearly annoyed.
"Excuse me, now you talk? Usually you just sit there and look pretty with a smile on your face. Who are you? It's none of your business," Singer said. "I don't think it was your place to say anything ... just stay out of my business."
At Singer's Hamptons home, her love rat husband Mario Singer made a shocking -- and now, ironic -- comment to a crowd, "Honey, the best cheaters are the ones who get away with it!"
Although he was referring to playing golf, Ramona stands by his side, looking seriously uncomfortable. (As fans know, the pair's marriage exploded when she called 911 allegedly after encountering Mario with mistress Kasey Dexter at their Hamptons home.)
Finally, Carole Radziwill and Drescher tried to bury the hatchet over "Bookgate," which erupted weeks ago when the "Leggy Blonde" author accused her co-star, professional writer Radziwill of using a ghostwriter.
"What did I say that you felt you had to make up all these lies about my career?" Radziwill asked.
How Housewives Stars Go From Home To Hot – See The Photos
"Before we became friends, I was a gushing fan… I think you're a great writer. You may hate me, but I'm still a fan. Congratulations," Drescher said, pulling Radziwill's book "The Widow's Guide to Sex and Dating" from her purse.
"When she went into her bag, I thought she was going to pull out a gun. She's that weird," Radziwell said, with their feuding over – for now.