Slain Model Reeva Steenkamp Eerily Talks Of 'The Way You Go Out In Life' On Reality TV Show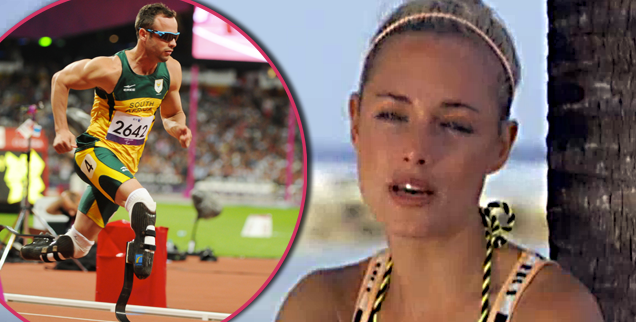 Only two days after her shocking murder, South African TV this weekend aired the premiere of a reality show featuring slain model Reeva Steenkamp, but added a haunting video tribute to the former girlfriend of Paralympic superstar Oscar Pistorius.
The tribute -- which was broadcast as part of the program Saturday night -- is made up from footage of Steenkamp's stint on the popular reality TV show Tropika Island of Treasure, now in its fifth season.
Article continues below advertisement
In the video, Steenkamp, 29, eerily says: "I think the way that you go out, not just your journey in life, but the way that you go out and make your exit is so important. You either made an impact in a positive way or a negative way".
Although some viewers have demanded that the reality show -- in which celebrities and members of the public compete against each other in an exotic location to win a cash prize -- be canceled due to Steenkamp's murder, her family says it was her last wish for her family to see her appear on it.
Sharon Steenkamp, Reeva's cousin, told The Associated Press that she was "proud of being in the show" and even reminded them in their final conversation to make sure that they watched it.
The South African Broadcasting Corp. dedicated the Tropika Island of Treasure premiere to Steenkamp's memory and showed the words "Reeva Steenkamp 19 August 1983 - 14 February 2013" between images of a rose and a candle in a short tribute before the show aired.
Article continues below advertisement
In the tribute, the gorgeous model and law graduate was seen laughing and smiling, swimming, and blowing a kiss toward the camera in Jamaica when it was taped last year.
Watch the video on RadarOnline.com
youtube
Prior to the show airing Saturday night, Steenkamp's family said it had not been contacted by either the SABC or the show's producers for permission to air it, but they said were not opposed to it because Reeva wanted everyone to see it.
"Her last words to us personally were that she wants us to watch it," Sharon Steenkamp said.
The show's executive producer, Samantha Moon, said going ahead with the show "is what she would have wanted" and said that she felt it would be "an injustice" to deny those who did not personally know the model the chance to see her on television.
"Every episode that she is in, every frame that she so ably dominates – shines with her light and her laughter echoes in every conversation, and we want to share these special memories with the rest of South Africa," Moon said in a statement.
Article continues below advertisement
SABC1 released its own statement, only expressing condolences for Steenkamp's shocking death. "As SABC1 we are deeply saddened by the tragic turn of events involving one of the players on our show, Tropika Island of Treasure 5," said Vukile Madlala, SABC1 publicity manager. "Our thoughts and prayers during these trying times are with the family and friends of the dearly departed Reeva Steenkamp."
As RadarOnline.com previously reported, authorities say Oscar Pistorius -- a 26-year-old double amputee known as the Blade Runner -- repeatedly shot Steenkamp to death on Valentine's Day at his gated home in an upscale area of Pretoria.
A bloody cricket bat was found at the home, according to the respected South Africa newspaper City Press.
City Press is also reporting that sources close to the investigation have said Steenkamp's skull was crushed.
"There was lots of blood on the cricket bat. Forensic tests will show whose blood it was," a source said.
Steenkamp was wearing a nightgown when found and police discovered her overnight bag and iPad on the floor of Oscar's bedroom. A holster for a 9mm pistol was found on his side of the bed. The bedding was crumpled. "It was clear that both of them had slept in the bed," a police source told City Press.
Article continues below advertisement
One spent cartridge was found in the bedroom and according to City Press, police suspect Oscar may have "chased" his girlfriend and fired the first shot before Steenkamp could lock herself inside the bathroom.
"The suspicion is that the first shot, in the bedroom, hit her in the hip. She then ran and locked herself in the toilet. She was doubled over because of the pain. He fired three more shots. She probably covered her head, which is why the bullet also went through her hand," a source is quoted as saying.
Pistorius has been charged with pre-meditated murder. He has rejected the murder allegation "in the strongest terms," his agent said in a statement.
Pistorius is scheduled to appear in court Tuesday for a bail hearing, something police have said they oppose.