Giant Sinkhole In Chicago Swallows 3 Cars!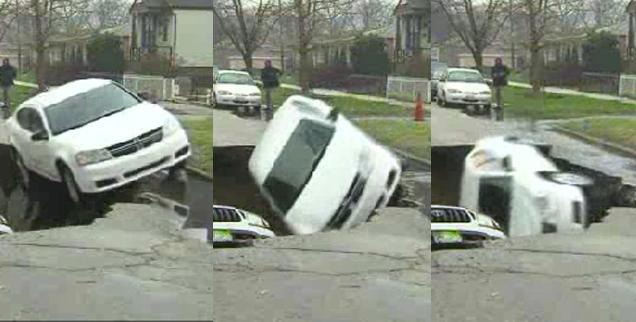 For the second time in two months, another giant sinkhole has been discovered in the United States, though thankfully this time, with less deadly results.
The story comes out of the southeast side of Chicago, where three automobiles were swallowed into the ground at 5:30 a.m. CT. Thursday. One person was hospitalized with head injuries, according to the Chicago Tribune, quoting Chicago Police Department spokesman Michael Sullivan.
Article continues below advertisement
The injured individual was a driver trying to navigate his car around the hole as it widened, though it fell in, witnesses told the paper.
Ola Oni, whose car was one of the three involved in Thursday's incident, said she felt lucky and happy she didn't suffer any injuries to her person in the terrifying incident.
"It could have happened to me, I am lucky, I'm happy," she told the paper. "In this kind of neighborhood, I don't think this should happen."