Sleepless In Seattle: Washington Woman Winds Up In ER After ORGASM Lasts 3 Hours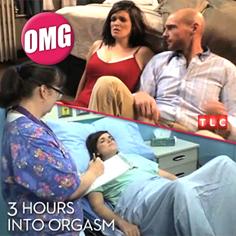 A Seattle woman identified only as "Liz" took center stage on TLC's latest curiosity on their new human interest feature Sex Sent Me to the ER, where she and her partner Eric opened up about the time they had to visit the E.R. as she had an orgasm last three hours.
Liz said that it began at the end of a lovemaking session with Eric, and after an hour, she was taking any and all measures to change her body chemistry.
Article continues below advertisement
"I started hopping up and down to see if that would do anything, I started trying to drink wine to see if that would calm down my system," she said. "I tried just about every possible thing I could do to stop having an orgasm."
After two hours, the couple checked into the hospital, where many medical professionals believed she was going into labor. The symptoms finally waned during the third hour.
Eric said he felt more than a tad uncomfortable when they sought medical treatment.
"As much of a relief as it was to have her in the hospital, now there were eyes on me and I was still feeling very tense and uptight and uncertain about what was going on and what was going to happen," he recalled.
Watch the video on RadarOnline.com
Sex Sent Me to the ER airs Saturdays at p.m. on TLC and Discovery Fit & Health.