Sasquatch Squashed? Texas Hunter Says He Has Bigfoot's Dead Body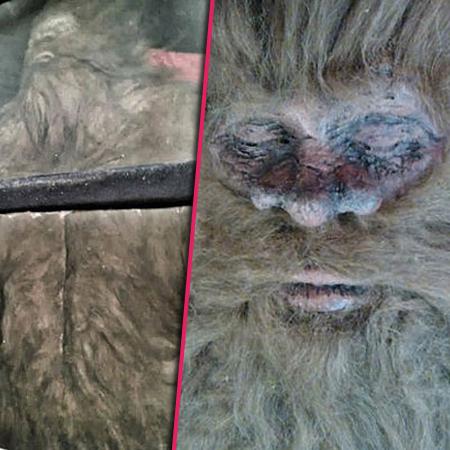 Rick Dyer, a self-proclaimed Bigfoot hunter, claims he's made the ultimate catch.
Dyer -- who said he fatally shot a Bigfoot in the woods of San Antonio, Texas in Sept. 2012 -- has released a series of images of the fallen beast to justify his claims.
Dyer initially said he made the catch in a 2013 documentary titled "Shooting Bigfoot," but the best visual proof he offered in it was a grainy clip that failed to persuade its' viewers to believe it was authentic.
Article continues below advertisement
Watch the video on RadarOnline.com
Dye -- who said he baited the beast with a giant rack of ribs -- said that he's now able to furnish pics, after coming to an agreement with his investors, who had possession of the body.
"We got the body … every test that you can possibly imagine was performed on this body -- from DNA tests to 3D optical scans to body scans," he told KSAT. "It is the real deal.
"It's Bigfoot and Bigfoot's here, and I shot it and now I'm proving it to the world."
Dyer said the physical evidence should put to an end any debate as whether Bigfoot exists or not.
"Bigfoot is not a tooth fairy -- Bigfoot is real -- the most important thing to me is being vindicated, letting people know that I am the best Bigfoot tracker in the world and it's not just me saying it," he said.
Next up for Dyer and his prize, he said, was a North American tour, and a news conference to tout the capture.