Sara Gilbert: I'm Getting Married!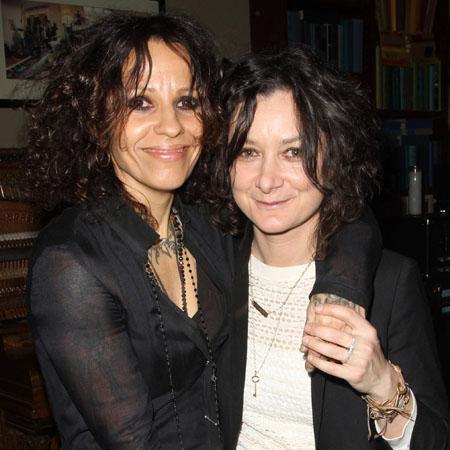 Here comes... the brides!
The Talk co-host Sara Gilbert is engaged to her girlfriend of a year, musician Linda Perry, she announced on Monday's show.
The proposal was romantic and elaborate, she revealed, during a picnic last week.
"We go to a park, we have food and we're eating it, it's really sweet and there's this guy sitting playing guitar, like a street musician," the former Roseanne star explained.
Article continues below advertisement
"He starts playing this song that we love… I'm like, 'Oh, that's so weird, this is so magical and amazing.' Suddenly the people picnicking next to us pull out string instruments from under the blanket and walk over and they start playing Love Song (by the Cure)."
Perry -- who was a member of 4 Non Blondes in the '90s and now works as a songwriter and producer for artists including Pink, Christina Aguilera and Gwen Stefani -- then displayed four t-shirts with one word each.
Together, they read -- Will. You. Marry. Me -- followed by question mark, before Perry topped the whole thing off by pulling out a ring.
"It's the most amazing proposal ever and then … this guy walks up and she's like. 'This is John Waite.' And he starts playing Missing You," Gilbert gushed.
The whole performance was shared by their mothers and close friends, who had been let in on the secret!
As RadarOnline.com previously reported, Gilbert, 38, had previously been in a serious relationship with television producer Alison Adler, who she dated for 10 years.
The couple split amicably in Aug. 2011 and share custody of their two children, son Levi, 6, and daughter, Sawyer, 4.
Just three months later, Sara was spotted walking hand-in-hands with Perry and the pair have been inseparable since.