Six People Plus Shooting Suspect Dead In Santa Monica Killing Spree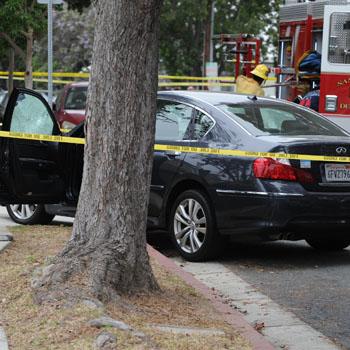 UPDATE: Officials have downgraded the number of fatalities to four.
Six people and the suspect died on Friday after a shooting rampage that ended at on a college campus after violence erupted in several locations in the coastal town of Santa Monica, Calif. officials confirmed.
Authorities said a gunman with an assault-style weapon allegedly set a home on fired, shot at cars and tried to carjack two vehicles. He reportedly shot multiple people in the Santa Monica College library and one woman died at the Ronald Reagan UCLA Medical Center.
Article continues below advertisement
At a press conference Santa Monica Police Chief Jacqueline Seabrooks said the suspect fled the library and he was killed in a by police. ABC 7 Los Angeles reported his weapon was "possibly an AR-15 rifle."
A second person of interest/possible suspect has been taken into custody and the SMC school newspaper his identity as student Michael Lim. The Associated Press said his sweatshirt read "Life is a Gamble" on the back.
Seabrooks said "We are not 100 percent that the suspect who was killed operated in a solo or alone capacity."
Two men were found dead inside the burning home in the town, and then authorities say the suspect shot two more people on the street as he headed to the campus and shot more there.
Six people were taken to the hospital, three to Ronald Reagan UCLA Medical Center where one woman died. The other three women were taken to UCLA Medical Center Santa Monica where they have been treated for injuries, one has a shrapnel-related injury and the other were not related to gunfire.
Article continues below advertisement
The first 911 call from campus came in at 11:55 am, with a caller reporting that a man was shooting at vehicles and busses.
The college was subsequently put on lockdown.
"Police had us crawl on the ground," witness Audra Bell told KPCC news. "And then once I was crawling down the stairs from the second floor to the first floor, there was a body on my right hand side, and the glass of the library doors was all broken and it looked like it had been shot, and then there was blood everywhere. And there was a stream of blood that went from the entrance of the library down the steps. And then there was a body on my right-hand side on the way out as well, after I got out of the library."
"I saw one person down, hundreds of rounds of ammunition, shattered glass, blood all down the stairs in the front of Santa Monica College library," Santa Monica College sophomore Brett Holzhauer added.
Stay tuned to RadarOnline.com for the latest developments.
radar_embed service=youtube src="https://www.youtube.com/embed/uDVwRfjH9wE" width="560" height="315"