Worst On-Air Mistake Ever? News Station Falls For Prank When Reporting Asiana Crash Pilot Names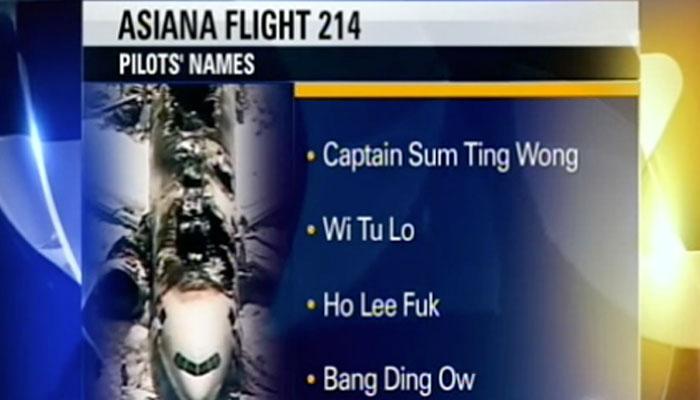 A San Francisco news station got pranked big time on Friday when they aired names of what were believed to have been the pilots aboard Asiana Flight 214 that crashed on Saturday — and it's a must see video clip obtained by RadarOnline.com.
While reporting on the tragic crash landing, a KTVU news anchor reports that the pilot names have been released through the National Transportation Safety Board.
"We have new information now, also on the plane crash. KTVU has just learned the names of the four pilots who were onboard the flight," she is heard saying.
Article continues below advertisement
"They are Captain Sum Ting Wong, Wi Tu Lo, Ho Lee Fuk and Bang Ding Ow. The NTSB has confirmed these are the names of the pilots on board Flight 214 when it crashed."
WAIT, WHAT?
That's right, once read out loud it's clear the names are a joke — even though the station cleared the names through the NTSB!
Upon realizing their major flub, KTVU was quick to offer an on-air apology saying, "Earlier in the newscast we gave some names of pilots involved in the Asiana Airlines crash.
VIRAL VIDEO: Rudest, Most Obnoxious Customer In America
"These names were not accurate despite an NTSB official in Washington confirming them late this morning. We apologize for the error."
The NTSB later issued a press release apologizing, and explaining that a summer intern "acted outside the scope of his authority" and "erroneously confirmed" the names to the station.
Watch the video below!
radar_embed service=youtube src="//www.youtube.com/embed/L1JYHNX8pdo" width="420" height="315"