Jumbo Jet Crashes On Landing In San Francisco, At Least 2 Dead, More Than 80 Injured & 60 Missing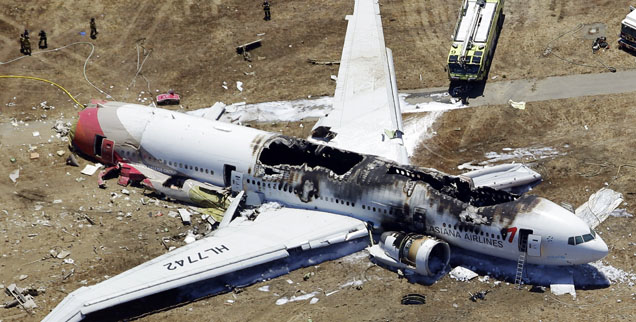 A devastating airline crash occurred at San Francisco International Airport at 11:30 am Saturday.
Asiana Airlines Flight # 214 from Seoul came in hard, tail first, and spun around like a top, according to an eyewitness.
PHOTOS: Jumbo Jet Crashes In San Francisco
Pictures show the top ripped off the passenger compartment of the giant Boeing 777, its exit slides deployed and the tail and landing gear completely ripped off.
Article continues below advertisement
There were 291 on board, including 16 crew and a large group of vacationing Korean schoolchildren.
At least two on board were killed and 61 were injured, KTVU is reporting.
Asiana is the second largest airline in Korea and was recently lauded as the best international airline by a business magazine.
Incredibly, it appears be that most of the passengers escaped the wreckage, even as smoke billowed from the aircraft.
"I just crash landed at SFO. Tail ripped off. Most everyone seems fine. I'm ok. Surreal...," tweeted Samsung exec David Eun, a passenger on the plane.