Exclusive
Thanks Honey! Russian President Vladimir Putin Chooses Rumored Mistress As Olympic Ceremonies Torchbearer Despite Mediocre Athletic Record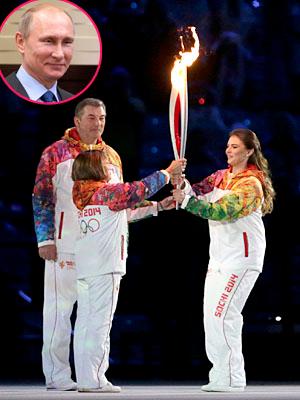 Vladimir Putin just gave his rumored girlfriend one heck of an early Valentine's Day gift. Alina Kabayeva, the woman widely reported to be romancing the Russian President right under his wife's nose, made a stunning appearance as one of the final torchbearers at today's Opening Ceremonies of the Sochi Olympic Games, despite the fact that her athletic record is mediocre at best.
Kabayeva, won one gold medal in the 2004 Olympics in Athens, and one silver in Sydney in 2000. On Friday, she stood alongside three-time gold medal winning wrestler Aleksander Karelin, two-time gold medal winning track star Yelena Isinbayeva, three-time gold medal winning hockey goalie Vladislav Tretiak, and tennis player Maria Sharapova, who has won one silver Olympic medal.
Article continues below advertisement
Commentators were quick to slam Kabayeva's inclusion as an obvious case of having friends in high places. "She was very talented as a rhythmic gymnast," one BBC commentator sniffed. "But in the company of Russian Olympic greats, she was there but probably not in the top six."
Putin has continued to deny that he and Kabayeva have a romantic relationship, though it has been widely reported for years.
Check out her gold medal-winning moves in this video:
And this isn't the first time that she's achieved a position of national acclaim, seemingly with a little help from her friends in high places.
She was Russian Vogue's debut cover girl in 2010, despite having little modeling experience. And before that, she was fast-tracked by Putin to a position in Russia's State Duma, or parliament.
She gave birth to a son just one year later, and has never named the father.
Do you think Kabayeva deserved her role in the Opening Ceremonies? Let us know in the comments!