Ouch! Rosie Pierri Says Kris Jenner Looks 'Plastic-y' On Watch What Happens Live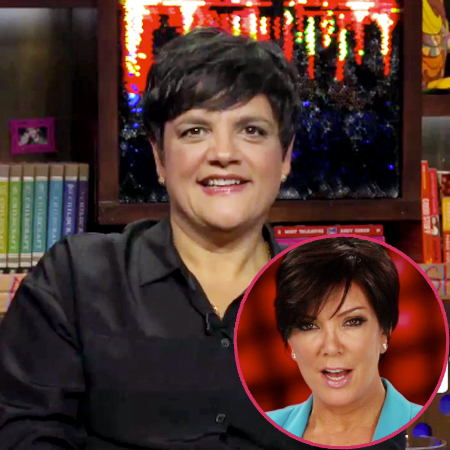 Article continues below advertisement
Pierri then pulled a long, stiff face as the audience roared with laughter.
"I think she looks plastic-y," Pierri exclaimed, amused. "Do I look plastic-y?"
That segued into an awkward moment with RHONJ superfan Lance Bass, who appeared with Pierri on the talk show, and said he is a friend of the Kardashian family.
"I love the girls. They're great," he said.
But in another fun moment for Cohen, former 'N Sync-er Bass revealed to the Bravo host that although he's been out of the closet for years (and recently got engaged to his boyfriend, Michael Turchin), things were a LOT different during his boy band days.
Bass once hooked up with 'N Sync groupies--who happened to be girls!
"I learned all I needed to know on the road," he claimed, adding, "You'd be attracted to a chair at 16."
"So you've been with women?" Cohen pressed.
"Yes," Bass confirmed.
The former pop star, who's now planning a big wedding with Turchin, said all the 'N Sync fans back in the day were girls, and sighed, "It was God's little joke to make me gay and put me in a boy band."
Article continues below advertisement
Bass, who told Cohen 'N Sync won't be reuniting again after their brief VMA appearance (due to Justin Timberlake's busy schedule), said he never told anyone he was gay while in the band.
"I think they might have had an inkling that I might have been gay but no one officially knew until I was out of the group," he revealed.
Bass enjoyed chatting with Pierri, who appeared on the RHONJ reunion show on Sunday night-- and he asked her about her cousin Teresa Giudice's reluctant apologies.
Watch the video on RadarOnline.com
Pierri said, "You gotta take Teresa's apologies the way she's willing to apologize. She said she was sorry to me in a roundabout way and I knew what she was trying to say. I think it's a hard thing for her to say 'I'm sorry.' I hope her apologies are sincere. I think they might be.
"I don't know. I'm not in her head."
Watch What Happens Live airs Sunday through Thursday on Bravo at 11/10c.