Rihanna Fans Revolt! Audience Members Throw Food at RiRi After Delayed Start -- See the Video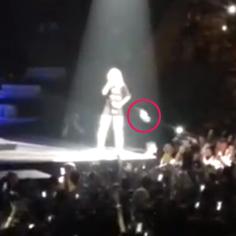 Disgruntled Rihanna fans have taken to Twitter all summer to vent their disgust at the singer's repeatedly delayed starts and lackluster performances during her Diamonds World Tour. But last night in Manchester, audience members took it to another level after Rihanna was late again, launching potato chips and other items on stage.
Video footage captured various missiles being tossed on-stage during Rude Boy. After, an irritated RiRi subsequently told the crowd, "There's a good crazy and there's a bad crazy. When you throw sh*t up here, that's an epic fail...I swear to god, cut that sh*t out. Really, chips? Chips though?!"
Article continues below advertisement
Watch the video here:
youtube=https://www.youtube.com/watch?v=HURTZF6veg0&w=560&h=315
Rihanna clashed with another fan back in June, when she cracked an overly zealous female audience member over the head with a microphone, as RadarOnline.com reported.
Her mentor, Jay-Z, recently said he has no control over what she does on or off the stage, saying "I can't intervene. I can give advice and that's it."