'RHOP' Recap: The High Tea From Hell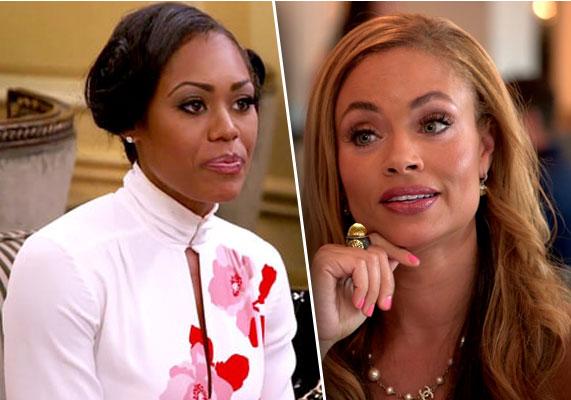 Episode two of the Real Housewives of Potomac picked up where episode one left off: with Charrisse Jackson Jordan and Gizelle Bryant bickering outside of the charity dance competition. Nothing was resolved, and both women left in a huff.
Although Ashley Darby won the night, her troubles were far from over. She and her husband had been accustomed to taking lavish trips to celebrate their anniversaries, but this year, they celebrated by bickering about their restaurant and baby plans. At least there was champagne.
Article continues below advertisement
Even though Katie Rost is no longer an official RHOP cast member, viewers finally got to experience her Casino Royale event, which she'd been planning since last season. Although she kicked all of her former cast mates off of the planning committee, she did ask Charisse to bring some friends. Enter new girl, Monique Samuels and her husband Chris, a former NFL star.
The rest of the ladies showed up to the event, all seemingly ready to pounce at any misstep by socialite Katie.
While the event took place at D.C.'s beautiful University Club, it may as well have been held in a Baltimore sewer the way the pack of mean girls trashed every aspect of the fundraiser. Some were more blatant than others. Giz rudely talked smack about a young group of performers, while Karen Huber was more subtle, saying that Katie had "tried her best."
Robyn Dixon got together with Karen for some girl time. Charisse and Gizelle's fight was the main topic of conversation, and Robyn admitted that while she and Gizelle are BFF, Gizelle was wrong to speak about Charisse's relationship on national television. Karen put the comment in her back pocket, and could barely contain her glee at the prospect of breaking up Giz and Robyn's friendship.
Article continues below advertisement
Monique invited Robyn and Charisse to a workout session followed by champagne, which is a totally normal thing in the land of the housewives.
Eager to assert her position as a woman of means, Monique brought along an assistant to pour the champagne for them, lest she should have to perform the menial task herself. She then launched into a soliloquy about the vast expanses of her wealth, and her many estates. Cash-strapped Robyn did not find it cute, but listened politely.
Ashley invited the ladies to come to her and her husband's Australian-themed restaurant where they were asked to sample exotic game. Ashley took the opportunity to mention once again that everyone thinks the menu is disgusting. Not exactly a ringing endorsement of the place, especially coming from the owner.
The episode ended with high tea at The Willard, which must be nice since it is one of the few events the ladies had no snooty comments about.
Article continues below advertisement
Monique arrived on the early side and got acquainted with Gizelle, who immediately launched into "hazing" mode, as Karen described it. When Monique mentioned she was looking for a home in Potomac, Gizelle insinuated that she's homeless. Never that! Monique corrected her, informing her that she's already got four homes.
Giz dug for more dirt, and eventually got Moni to admit that she's an aspiring rapper. Gizelle struck gold. She asked Monique to drop 16 bars, which she did. Although the young MC was not a bad rapper, Gizelle mocked her in the confessional for rapping at high tea, even though she specifically asked for the performance. She also slammed Moni's "Princess Leia" hair and complained about having to endure "new friends" during her precious tea.
We pay for juicy info! Do you have a story for RadarOnline.com? Email us at tips@radaronline.com, or call us at (866) ON-RADAR (667-2327) any time, day or night.