Teresa Confronts Kim D After Nemesis Spreads Cheating Rumors About Her & Husband Joe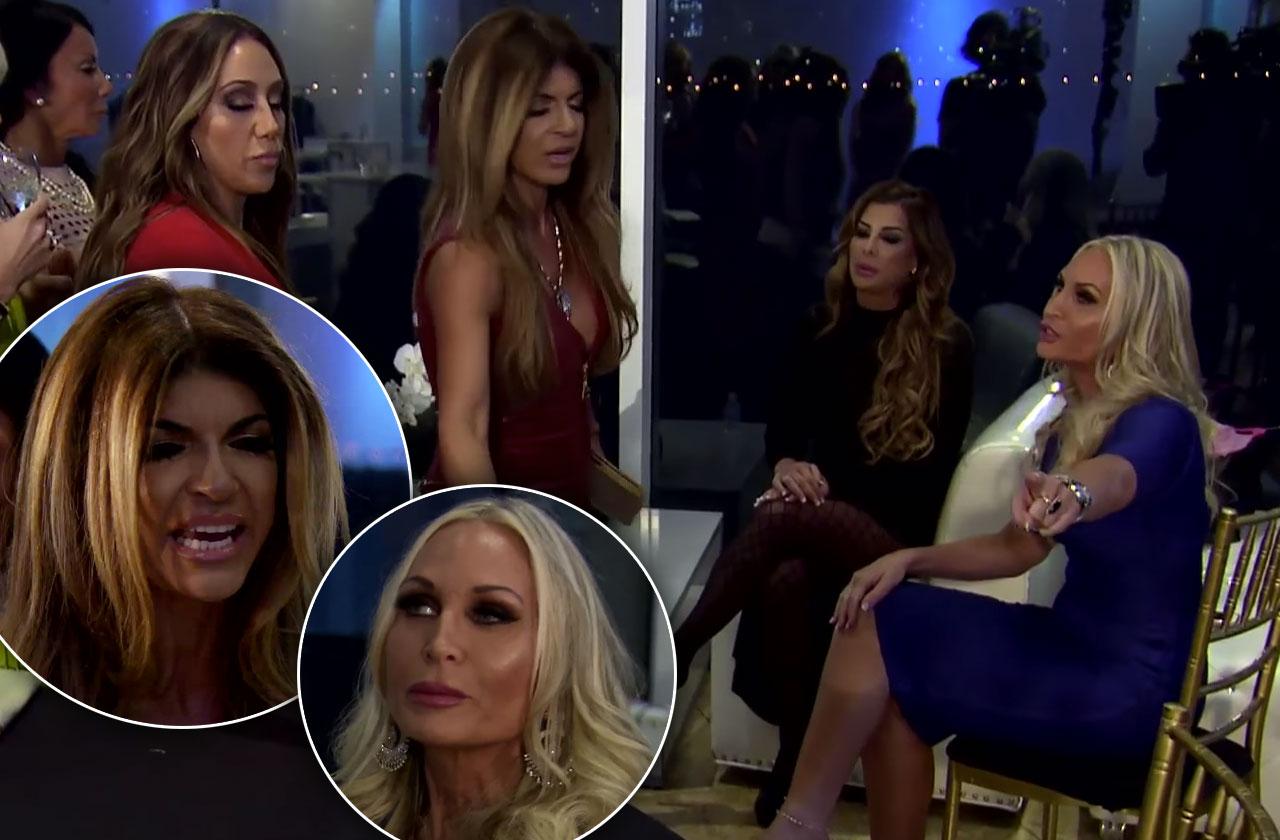 On last night's episode of The Real Housewives Of New Jersey, Kim DePaola invited the ladies to her annual Posche fashion show. This year, she held the event in honor of Tones and Aaron, her son's friends who were killed earlier this year.
Of course, Teresa Giudice saw the ritzy charity show as the perfect place to confront Kim D for the infidelity comments she made about her and her imprisoned husband Joe.
Article continues below advertisement
"Kim said Teresa is rekindling an old flame with one of her exes. Now she finally sees I was right about Kim," Melissa Gorga said. "Once again she's up to her old tricks."
Melissa feared this could get Teresa, who spent nearly a year in prison on fraud charges, back into trouble.
"Teresa is in a situation right now where she really shouldn't be going to these types of places or where there could be any type of danger of any sort," Melissa expressed. "Because Teresa can't get into any trouble right now; if she does, she goes away again."
Needless to say, Teresa was keen on talking to Kim D – and things did not turn out well.
Teresa, along with Melissa, Margaret Josephs and Danielle Staub showed up to the Waterside Restaurant in Bergen, New Jersey where Kim D was huddled with Siggy Flicker, Dolores Catania and other friends.
Kim D welcomed them, but Teresa got right to it and told Kim she was there to talk.
"Are we all going to talk at the same time, or are we going to talk one on one?" Kim asked, signaling to the women surrounding Teresa.
Article continues below advertisement
"Are they scaring you, these three ladies?" Teresa replied, to which Kim replied, "No, I'm not afraid at all."
Teresa told Kim she heard from Dolores all the rumors that she had been spreading about her.
"Listen, nobody is going to talk about my husband or me!" Teresa exclaimed.
Kim D replied with, "too f**king bad," admitting to spreading those rumors, which then set off a firestorm.
"Did you see him f**king another girl?!" Teresa asked. Kim said she didn't, but what would follow were insults hurled at one another. Kim D attacked Teresa for going out to nightclubs every night while she has a family at home.
"I have girls — models here that saw you going out to clubs every freaking night!" Kim said.
"You're a dirty b***h!" Teresa screamed at Kim, as she returned the insult.
"I want to f**king straighten you out right now!" Teresa yelled.
After shouting over each other, for what seemed like hours, Teresa took the feud a step further, and began throwing wine glasses at Kim, later storming out with Melissa. She was shocked that Dolores and Siggy decided to stay to walk in the fashion show.
Article continues below advertisement
"You are all Kim's puppets!" Teresa yelled as she walked out, feeling like two of her friends had just stabbed her in the back.
Kim D told security Teresa was not allowed back in.
Earlier in the show — before the big fight — Melissa invited Dolores and Siggy along with her and Teresa to a trip to Milan for some girls' fun. However, their Italian adventure was almost halted following Siggy and Dolores' decision to stay behind and walk in Kim D's fashion show.
Frank Catania sat down with Siggy and Dolores at a nearby restaurant to talk about Teresa and Kim's catfight. Frank sided with Teresa, and encouraged them to apologize.
Siggy later showed up to Teresa's house to explain her reasoning for sticking out the rest of the show.
"I want you to know the that in Kim D's store I defended you and defended your family." Siggy said. "What she said was disgusting and below the belt and I'm saying it, I don't agree with it."
Article continues below advertisement
"I'm there for a charity event for three kids who lost their fathers. I didn't care about Kim D. I didn't want to disappoint the victims' families upstairs."
Teresa calmed down and told Siggy she understood. However, she was still hesitant about Dolores.
"I'm starting to sense a pattern with Dolores; she doesn't have my back. Like how many chances do you give someone before you realize they don't care about you?" Teresa wondered.
In another scene, Joe Gorda confided in wife Melissa that he wanted to hire a medium to reconnect with his mother, Antonia, who passed away in March at 66.
"I'm hoping the medium could connect me with my mother — that there is another life and I'll feel better," he told her.
The medium, Concetta, showed up to Joe and Melissa's house where Teresa was also present, and gave them an emotional session.
Concetta told Teresa and Joe that Antonia wanted them to know that "she is home and she is at peace, and not to be upset for her. She had the most wonderful life."
Article continues below advertisement
"I still need her," Teresa said between sobs.
"Your mother is telling you about your dad," Concetta said. "She is worried about him. This is a man who is saying things to her — asking her and wishing for himself to join her. She wants him to know and she asks you tell him 'don't be in a hurry' some day you will be together again."
"I do believe the medium is talking to my mom. Because I know my mom would want my dad to stay here with me," Teresa revealed. "I want my mom here, I want to touch her, I want to hug her. It's still very painful for me."