'RHOC' Star Tamra Blames Husband Eddie For Ruined Relationship With Daughter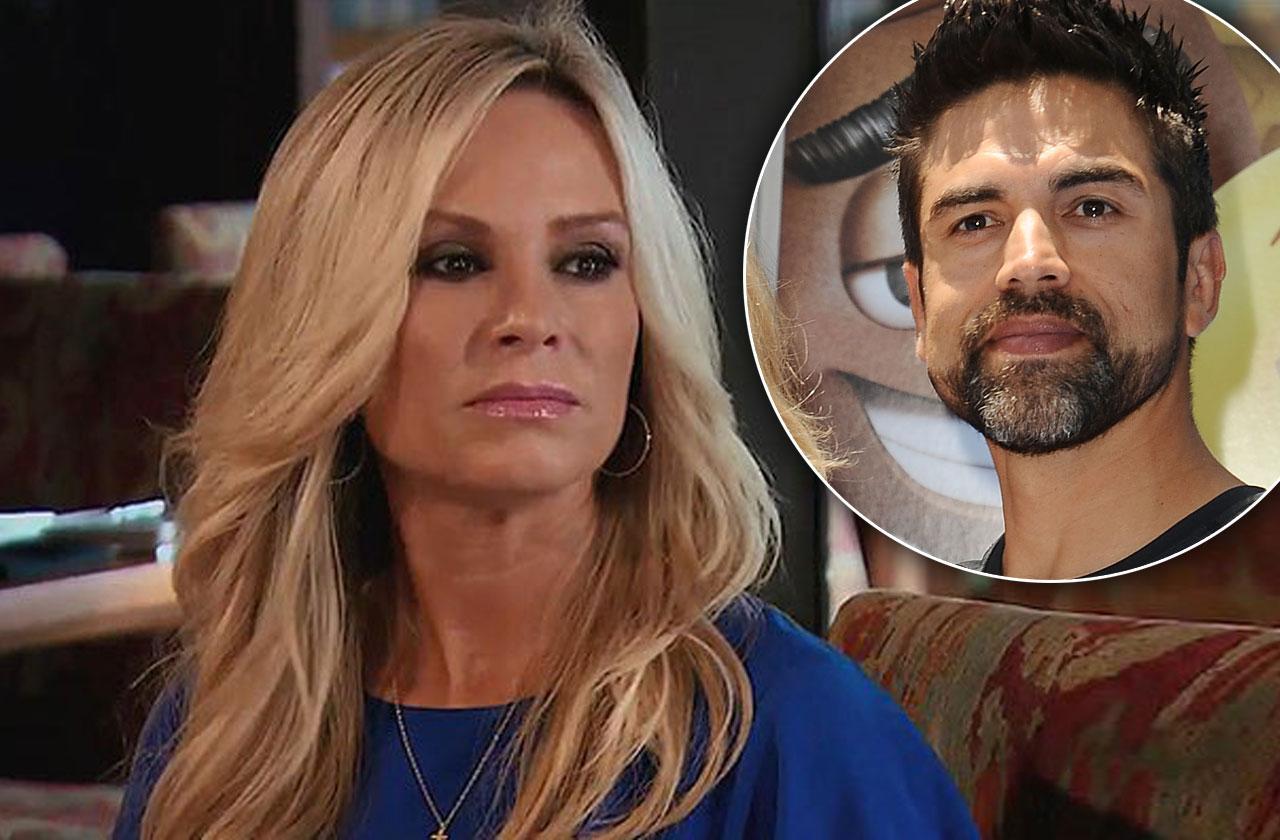 In episode seven of the Real Housewives of Orange County, Tamra Judge steals the spotlight from her fellow wives when she admits she may be blaming husband Eddie Judge for her broken relationship with her daughter.
In this week's clip, Judge's drama is front and center, not only with her estranged child but with Vicki Gunvalson and the newest housewife, Peggy Sulahian, as well.
In Gunvalson's first appearance, she begins by ripping Shannon Beador for her weight gain. "Shannon needs to stop blaming me for her problems. I have no fricking idea why Shannon is blaming me for her problems?"
Article continues below advertisement
She says with spite. "I'm flattered that Shannon thinks of me when she's eating her food and not exercising."
Meghan Edmonds makes a brief appearance in the Bravo episode, yet her strained marriage with Jim Edmonds is evident throughout. "Jimmy's a little bit softer now that baby Aspen's been born. Jimmy is really sweet and sensitive and thoughtful. The time when he's not being a huge asshole he's so sweet," she says about her husband.
Showing off their money in true OC style, Lydia McLaughlin's husband buys her not one but two cars for her birthday, a mom-mobile SUV Infiniti QX80 for $90,000 and later an Astin Martin D89 for a whopping $180,000. He even upped the bling with some $3,500 Gianelle Wheels.
"Doug goes over the top," she says. "Money is meant to be spent."
She, however, still would not stop talking about his vasectomy!
"I am planning a good by balls party. I love his balls and I feel like they deserve to be celebrated."
Article continues below advertisement
The screen then flashes to a wealthy Sulahian bragging about her kids and trying to praise them for their good work ethic: "Our kids don't have to work. What I love is that they choose to work."
The scene then changes to Tamra and Eddie on a date night, which turns sour when she drops the major bombshell that she blames him for the fact that her daughter, Sidney Simon, refuses to speak to her.
She continues, telling her husband that her mother not coming to her estranged children gala crushed her.
Article continues below advertisement
Eddie tries to make his wife feel better, telling her "It's nothing you did," but she shocks him with her confession.
"It could just be a coincidence. But the truth of the matter is she left four months after we got married. Now my dad ended up marrying my mom's best friend. I felt like he was choosing this woman over our family."
Eddie asks her "Do you think Sidney felt like that about you and me?" and a weepy Tamra says "Even tough she thinks you're good for me, I think maybe it could have been too much. Maybe that's what pushed her over the edge, maybe I was too wrapped up in my new relationship and my wedding and I just didn't give her the attention that she needed. Maybe if I just stayed married to Simon I wouldn't be going through this."
Her loyal husband tries to reassure her that things will get better. "You can't change the past. It's just a matter of time when you're going to have a relationship with her again. You gotta be patient."
An unhappy Tamra replies: "I don't really have a choice."
The attention later turns to Kelly Dodd and her miserable marriage. "Now that I'm 41 and he's damn near 60 he wants to stay home and I still want to have fun," she says of her husband.
Article continues below advertisement
Beador's dinner with her family is the next disaster on the show. Her pained-looking husband, David Beador is disinterested and shows no respect for her as she struggles to make a healthy meal, instead taunting her by shoving chips in his mouth with a blank stare on his face as she cooks.
"I cannot tell you how frustrating it is when you work to get a healthy meal on the table and your husband crams chips in his mouth."
She reveals that she is hoping to open a restaurant with "affordable, healthy food that is calorie-driven."
David is skeptical after she tells him it is a "unique concept: affordable healthy market. We might not make the profit margin that normal restaurants would make."
"You have to have profitability to sustain yourself," he tells her and she is disappointed by his lack of encouragement.
The spotlight flashes back to Judge, who calls her mother on the phone and talks about the time she missed her gala.
Article continues below advertisement
"I had planned on going," her mom says as she breaks down crying. "This whole things is so hard for me. I wanted to be there. I can't do this anymore. I mean it's almost worse than a death," she says about her estranged granddaughter Sidney.
"Because she's there and we can't get to her. I keep praying and praying and praying and God doesn't do anything. He doesn't fix anything. Every time I get my hopes up I get slammed right back down again. I promise you if you ever get this opportunity again I will 100 percent be there."
A tearful judge admits: "Divorce just destroys families. I turned my back on my family because I didn't like how he was dealing with the divorce. I do feel that Sidney is doing the exact same thing to me."
The drunken fireworks finally explode at McLaughlin's Noblemen magazine launch party.
"I want to support Lydia. But I want Tamra and Shannon to know they're not intimidating me," says Gunvalson. "They're not going to make me feel not welcome. They're like two little ants that go everywhere I am. Ugh!"
Article continues below advertisement
Judge wants nothing to do with Gunvalson either.
"I don't even want to make eye contact with Vicki. If I have to walk around my elbow to get to my a** so I don't have to look at Vicki I'm going to do it!"
With Vicki
McLaughlin tries to play peacemaker with Judge, telling her Gunvalson "is ready to move on."
"I love Tamra and Vicki and I love them together. They were like sisters and now they can't even look at each other. In my mind they're family to each other. In my mind they're like sisters," McLaughlin explains.
"These girls are bugging me," Gunvalson tells Dodd. "They're giving me dirty looks," and as she walks away Beador points to her and says she no longer cares about her. "She doesn't exist anymore."
Even though Judge agrees to meet with Gunvalson, she has no faith in the McLaughlin set up meeting. "Oh, Lydia. So naïve. She doesn't understand everything that's happened. In my head Vicki's dead."
Sulahian tries to defuse Judge's growing anger against Gunvalson, but winds up being attacked by her.
Article continues below advertisement
"She attacked my husband, she attacked my marriage. She attacked Meghan's husband," Judge tells her, and Sulahian responds: "It's not worth it. You're dwelling on it."
"Are you kidding me?" Judge screams. "Do you want to be friends? I've been friends with her for 10 years. She attacked my husband!"
Sulahian has no time for Judge's hysterics. "I want to have compassion for Tamra. Woman move on. Move on!"
A seemingly boozed up Judge and Beador begin talking. "I'm f*****g pissed," Judge says, and they leave in their limo.
"What the f**k did she just say to me?" she asks about Sulahian.
"She has a b***h a** attitude. Why am I defending myself?"
Judge says. "You don't know me and you don't know Vicki Gunvalson."
When Judge tells Beador that Sulahian had a double mastectomy from breast cancer, Beador is instantly suspicious.
"She had breast cancer? Makes sense that Vicki would glom onto Peggy," she says, invoking the Brooks Ayers fake cancer scandal.
"F**k me, the woman that lied about cancer."
Stay with Radar for weekly recaps of all the insane drama on The Real Housewives of Orange County!
We pay for juicy info! Do you have a story for RadarOnline.com? Email us at tips@radaronline.com, or call us at (866) ON-RADAR (667-2327) any time, day or night.