Out Of Control! Inside The Raunchiest 'RHOC' Sex Talk Yet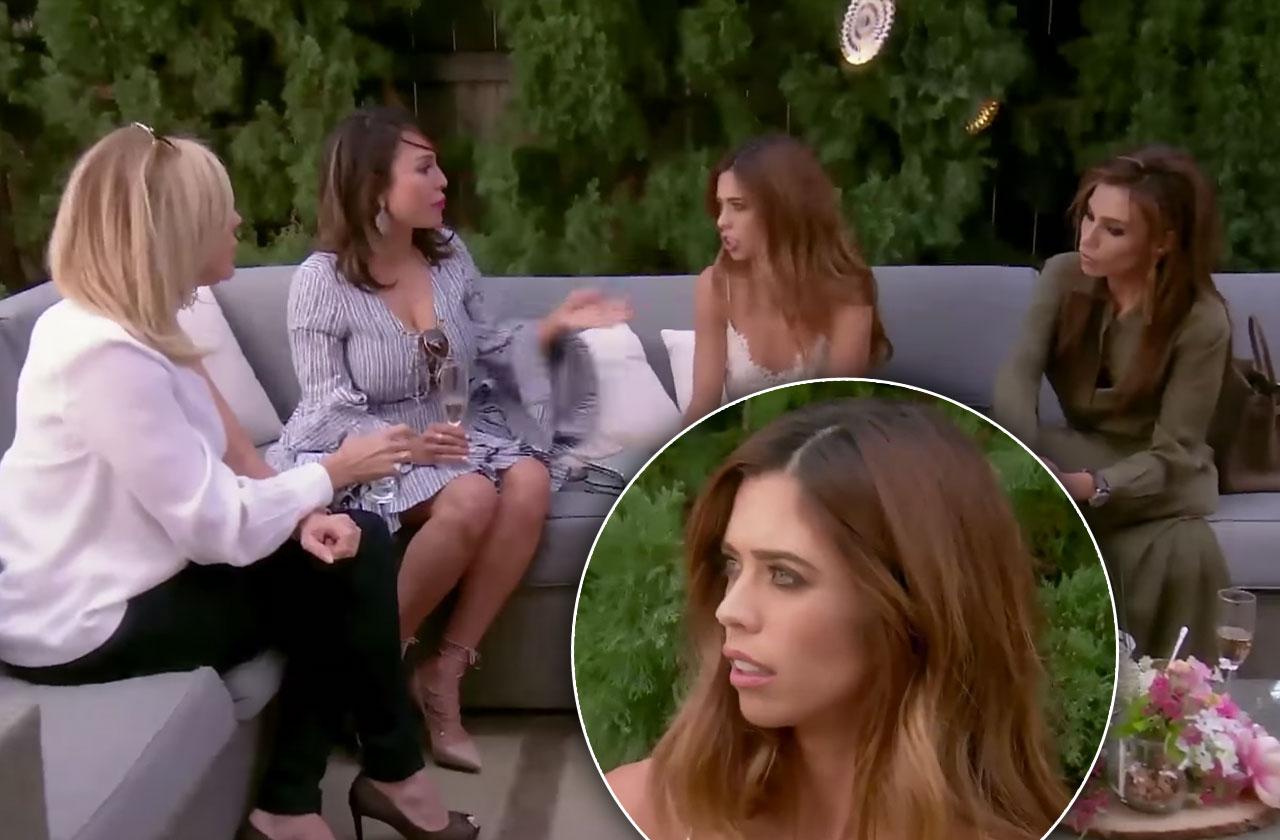 Episode five of The Real Housewives of Orange County begins with Tamra Judge fat-shaming Shannon Beador once again, later delving into the most uncomfortable sex talks ever from the outspoken ladies, and ending with an explosive "Shut up" from Vicki Gunvalson!
The Bravo show opens with Beador and Judge finally meeting Meghan Edmonds' daughter, Aspen, over lunch. In the scene, a 40-pounds-heavier Beador orders booze to go with her meal – a choice that does not go over well with her "friend."
Article continues below advertisement
McLaughlin drops the bombshell that both she and her Christian husband were virgins when they got married.
"Jesus loves sex. He made it and I think that it is great," she says initially, later to backtrack and correct herself: "I don't know if Jesus loves sex because he wasn't married."
Sitting in a cabana on the beach, her husband tells their son, "Sex is something that God created and it is really good." He continued, awkwardly saying: "adults do things in private time," and leaves it at that.
Article continues below advertisement
Peggy Sulahian prepares for a big event at the Lamborghini dealership and invites all of her RHOC co-stars, including Beador, who declines to join if Gunvalson and Kelly Dodd are attending.
"Vicki is my friend so I don't want to get in the middle of it," Sulahian admits.
Dodd's role is much smaller in this episode. She takes her mother to visit a senior center where they end up bickering non-stop. On the bright side, her elderly mom does manage to convince her to make amends with Beador and Judge, and so she calls the fitness guru to set up a coffee.
Awkward sex talk number two happens between Gunvalson and her son Michael. While they're preparing to open her new office, Gunvalson tells her son she would like for his girlfriend to work in the family business too, but then it all gets very personal.
"Do you want babies? Are you using birth control?" she asks her embarrassed child.
"Yeah, I don't want any kids right now until we're ready," he confesses, but she doesn't let up.
Article continues below advertisement
"Withdrawal method means parents, so don't do that," she warns him.
"Alright I'll be careful," he promises.
For the McLaughlin family in Hawaii, the mother of three tells her husband that she wants him to "get his balls cut off," and he balks at getting a vasectomy.
"We never got the girl we thought we were going to get," he argues, but she continues to insist on the operation, later confessing that she "would be nervous too."
In a brief scene, Edmonds complains about her husband, Jim Edmonds, saying she "hoped Jim would stay home more after baby Aspen was born. It's not happening. Jimmy's working more than ever. One day he's going to come home and Aspen won't know who he is."
Dodd and Judge finally meet for coffee and it goes very well.
"My plan is to out-puppet the puppet master," Dodd deviously says.
Judge says to the camera: "She just has to flip the switch and then she's bat sh*t crazy. As much as I don't like her I feel sorry for her."
Article continues below advertisement
Judge tells Dodd she wants to make amends. "I don't want to fight. When I get pushed into the corner I come out with claws out."
Dodd admits the way she attacked Judge on Twitter was out of control. "The social media stuff was absolutely obnoxious, but it's very hard for me to control myself," she says, practically in a chuckle.
"The Quiet Woman was quite a sh*t show ," Judge admits. "Shannon and I are now laughing about it. She didn't like the way she acted."
But Judge isn't over everything. "There are so many things that I want to tell Kelly to f**k off about," but Judge actually apologizes. "I'm sorry for anything I engaged in.
"I accept your apology. I just want to be friends with everybody," Dodd says.
Awkward sex talk number three follows.
"What else do you have for me?" Judge asks Dodd, who doesn't hold back. "My vag is tightened."
Judge can totally relate! "I joke I have a four-car garage down there. I'm pretty sure I peed my pants when I yelled at you in Ireland. I did. I had white pants on."
Article continues below advertisement
The show ends at Sulahian's Lamborghini unveiling party. "We are very big in the car industry. Our reputation is classy and professional. We would like to leave it like that," she says before the party starts.
Gunvalson, McLaughlin and Edmonds all attend the get-together with their spouses and when Sulahian presents the car only McLaughlin cheers for her. "You're just screaming 'Look at me, I'm rich, I'm so f**king rich, screw you," Edmonds says about the ostentatious display of wealth.
Cut away to Beador and Judge, who skipped the party and discuss Dodd and Gunvalson instead. "I'm a little bit afraid when it comes to Vicki I'm not going to be able to hold my sh** in," Beador admits.
Back at the fancy car party, Gunvalson and Edmonds begin rehashing the disastrous trip to Ireland, with the younger woman trying to get the older to apologize again.
"It's ok to swallow your pride. Sometimes it feels good," Edmonds says to Gunvalson.
"I have said 'I'm sorry' over and over and over again," Gunvalson says as the tension rises.
The Sulahian actually pushes Edmonds' lips together to tell her to keep quiet.
"Stop talking, you're making everybody feel uncomfortable," Sulahian says. Gunvalson agrees: "Peggy I love you because you nailed it. Shut up Meghan."
Stay with Radar for weekly recaps on The Real Housewives of Orange County!
We pay for juicy info! Do you have a story for RadarOnline.com? Email us at tips@radaronline.com, or call us at (866) ON-RADAR (667-2327) any time, day or night.