Vicki & Tamra Judge End Their Feud After Gunvalson's Hospitalization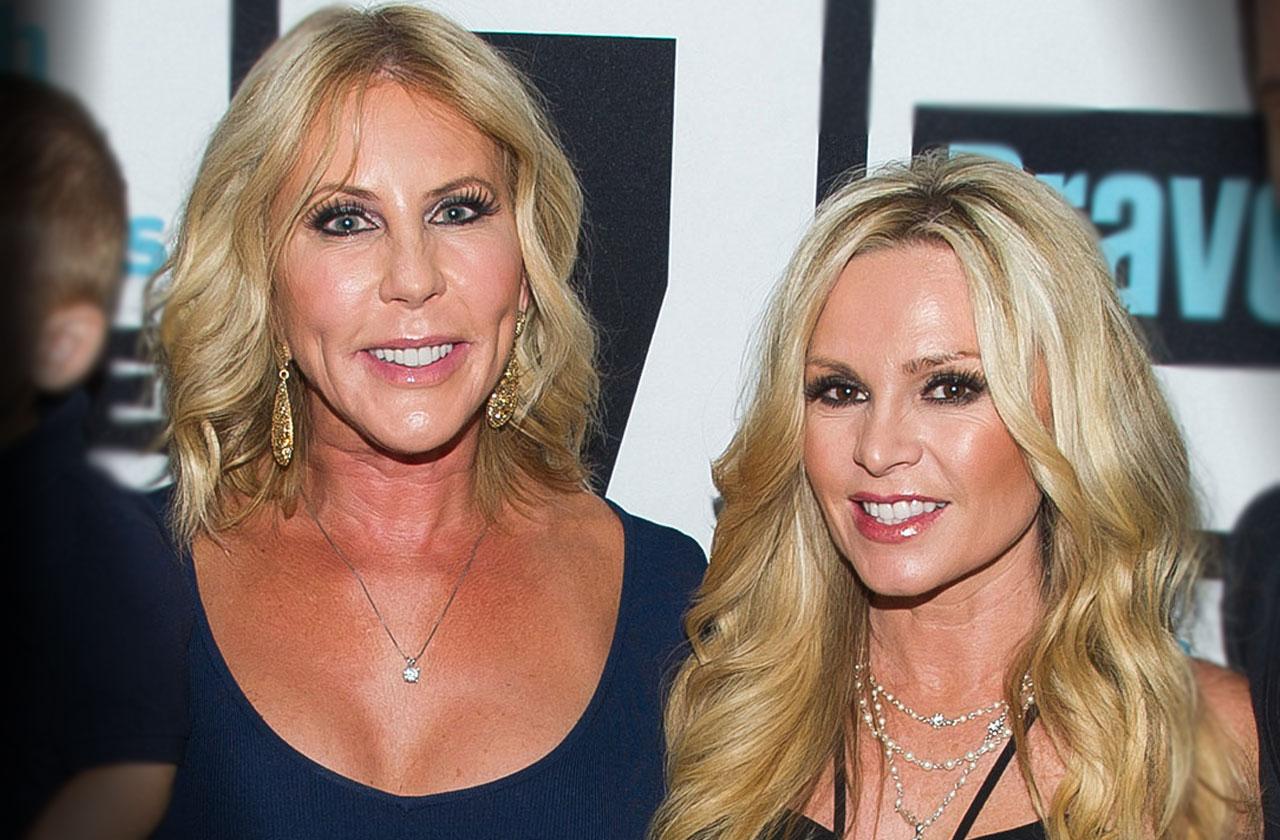 Article continues below advertisement
Lydia McLaughlin led the ladies in a group prayer and Gunvalson was taken to the hospital with a robe over her head, which entertained Beador to no end.
While she was en route to the hospital, Kelly Dodd, Meghan Edmonds, Judge and Beador decided to eat dinner. This horrified McLaughlin and Peggy Sulahian, who rushed to be with Gunvalson and left the other ladies to eat their meals.
"These women are more interested in eating and drinking than going to the hospital with Vicki," Sulahian said, while the four other RHOC ladies boozed it up.
"You have to feed your tummy before your friend?" Sulahian commented. "Yeah, you are selfish."
At 12:45 am Gunvalson finally returned to the hotel, greeted by four drunk women who gave her the casserole she always wanted.
"It's a gesture," Gunvalson said, thrilled about the treat. "It's about time I got my casserole. That's what you do when you're sick."
At 1:45 am Gunvalson, Judge, Dodd, Sulahian all went back to Beador's room for more drinking. "I do find it interesting that after being in the hospital Vicki would go straight to my room and have a glass of champagne," Beador quipped. "Who starts start drinking when they get released from the hospital?"
Article continues below advertisement
Judge and Gunvalson finally had their big make up session. With booze and tears flowing they apologized and moved on!
"Seeing Vicki taken to the hospital put things in perspective," Judge admitted. "Just please tell me you're sorry," she begged Gunvalson. "I just did. I've been telling you for six months!"
"I never started a rumor about Brooks," Judge cried, bringing up Gunvalson's cancer-scamming ex. "I wanted the best for you. I knew he was lying to you," and her friend told her "But I had to find that out myself."
Judge continued, "I was protecting you. Because he f**king, because you chose him over me. You did. I wanted you as a friend. I loved you over him."
"I can't do it, I'm sorry," Gunvalson said. Sobbing, Judge told her "All I ever wanted was the best for you," and the two hugged it out.
After the apology, Beador was furious. "What I am watching now is making me sick to my stomach. Vicki has never been a real friend to Tamra. Never. F**king liar, f**king liar, f**king liar. She's a f**king lair."
Article continues below advertisement
While Edmonds agreed, she told Beador, "I know but this isn't the time."
Still, Beador was unforgiving. "That woman doesn't admit anything, she doesn't take responsibility for what she does. She is doing nasty mean things on a regular basis."
Judge took Gunvalson's side. "I understand why Shannon's upset. But she's got to understand I'm done with negativity. I'm done with fighting. I'm done with the pain. I need to move on for myself, and if Shannon doesn't like it then too bad."
The next morning Sulahian refused to come out of her room and flashbacks showed that she and Dodd got into a fight where Dodd told her "You're f**king, like a f**king idiot."
"Last night was one of the worst experiences I've ever had in my life," Sulahian revealed. "Kelly insulted me while the other ladies sat and laughed. Why would I want to be around creatures like that?"
Later in the show, the RHOC ladies, minus Sulahian, went on an extravagant shopping trip and no one fought!
Article continues below advertisement
Judge even admitted that she was happy about her night with Gunvalson.
"I have to move on," she said. "It feels good to be in a place where we can have fun."
Gunvalson added, "Last night was the breakthrough we needed."
On the shopping trip Gunvalson and Beador laughed, hugged and joked – but how long can this friendly peace last?
Stay with Radar for weekly recaps of all the insane drama on The Real Housewives of Orange County!
We pay for juicy info! Do you have a story for RadarOnline.com? Email us at tips@radaronline.com, or call us at (866) ON-RADAR (667-2327) any time, day or night.