RHOBH's Carlton Gebbia Takes Conservative Mother-In-Law Thong Shopping – WATCH!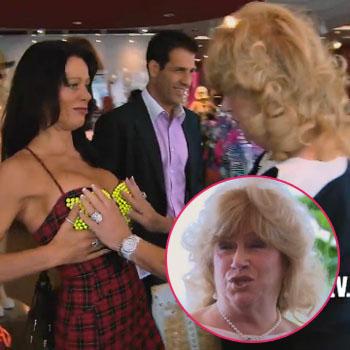 Carlton Gebbia has an interesting relationship with her mother-in-law – taking her to a sexy lingerie store on the upcoming episode of The Real Housewives of Beverly Hills, and RadarOnline.com has the video clip.
During the sexy outing, Carlton and her husband David take his mom to Hustler to look for thongs.
When the store's clerk asks what David's mom is looking for, Carlton replies: "A thong. We're thinking sequins."
Article continues below advertisement
Carlton also does a little shopping for herself.
"I like to dress up for David — I have a little closet full of personalities," Carlton explains.
"So while I am getting my burlesque room in order, I decided that I want to choose a few outfits to add to my vast collection."
Speaking to the Bravo cameras, Carlton explains her relationship with her mother-in-law.
"I have a very silly relationship with my mother-in-law. We certainly have some funny, raunchy conversations," Carlton says.
"She's pulled babies out of my vagina — it's not odd."
Later, Carlton plays dress up, modeling a few skimpy outfits for David and his mother.
What do you think of Carlton's open relationship with her mother-in-law? Sound off below...