RHOA Star Kenya Moore Claims Eviction Is Unfounded, Considered Restraining Order Against The Landlord!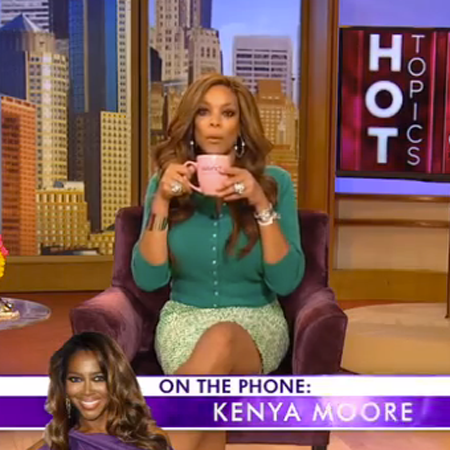 Article continues below advertisement
"So first off, I want to go back to the ruling. First of all, we never got notice of our court date so that's going to be overturned and we'll have another court date, so it isn't over until the fat lady sings," the reality TV star told Wendy.
"Secondly, this is absolutely absurd! I've paid this woman nearly $52,000 in rent and she has a $6,000 security deposit of mine. I have paid her May rent and paid her June and my lease is up in three weeks, so this whole thing is absolutely ridiculous."
As RadarOnline.com previously reported, Conya sued the former Miss USA for failing to make her full $3,999 May rent payment, claiming she fell $848 short.
Wendy asked about reports that Conya didn't change the locks when Kenya moved in and was going in and out of the home as she pleased.
"Well when I didn't move out when she wanted me to, because she has to give me 60 days notice, I have no problem…I don't want to be anywhere where I'm not wanted, I can find another house, done," Kenya said.
Article continues below advertisement
"And it was just like every day she was coming in and out of the house so it has gotten really crazy. I almost had to get a restraining order against her, that's how scared I was, to where we had to put up cameras."
And Kenya is adamant she's up on her payments and thinks the lawsuit is stemming from something in the landlord's personal life.
"I don't know if it's necessarily so personal, but the key is Wendy, it gets a little complicated, but she's taking her ex-husband back to court," Kenya explained.
"I can't help it if I live a fabulous life and she can no longer afford to be in the house."
Kenya didn't stop there — when Wendy asked if she's prettier than the landlord, Kenya said she would post a photo of her on her Instagram account and said, "You be the judge."
And in case you're wondering, yes, Kenya was invited to NeNe Leakes' wedding.
"Of course I'm invited!" Kenya said. "Nene loves me!"
radar_embed service=youtube src="https://www.youtube.com/embed/-OmBILa144g?feature=player_embedded" width="640" height="360"