Housewives War! NeNe Leakes: Brandi Glanville Is A 'Train Wreck,' Thinks She's A 'Gangsta' After Drinking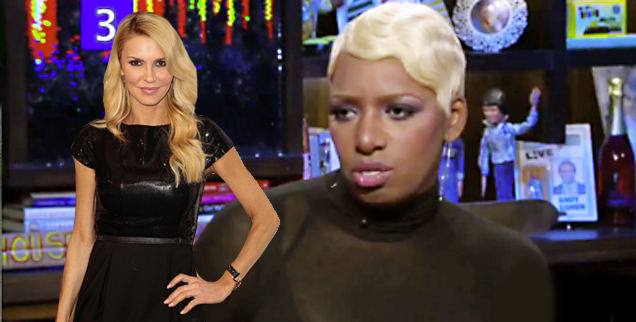 NeNe Leakes claims Brandi Glanville "thinks she's a gangsta" after she's been drinking!
That's what The Real Housewives of Atlanta star said about The Real Housewives of Beverly Hills beauty in a no-holds-barred interview with Bravo host Andy Cohen for his Watch What Happens: Live: NeNe One-On-One special on Sunday night.
"Brandi's just a train wreck. Just a wreck. Just a wreck," NeNe told Cohen. "She's just off the chain, she's off the hook with a lot of the things that she has to say, just so talkative." NeNe, who ran into Brandi after the Bravo upfront presentation for advertisers last month, claimed Eddie Cibrian's ex-wife says, "a lot of stuff that she needs to NOT say. She's going to get read." When Cohen asked NeNe to elaborate, the Atlanta housewife sighed, "just negative stuff, things like she thinks she's a gangsta, or something. She thinks she can get in people's faces and say whatever she wants to say.
Article continues below advertisement
"I like her when she's not drinking. Brandi and drinks don't work for me."
NeNe also dished on the other RHOBH stars, saying they were "very weird. Lisa Vanderpump was there; she's looking really thin, and that's probably because of the Dancing with the Stars thing."
But the candid Atlanta housewife was just getting started, gossiping to Cohen about The Real Housewives of New Jersey as well: "I like Jersey. I just think they're such gangstas. I just love them. They're so entertaining to me but you know what? They're getting a little too nasty." NeNe said she took Teresa Giudice's side at first against Melissa Gorga "then I didn't like either one of them. I feel for Teresa because there's something about being the first one in--when you're the first one in on one of these shows and somebody comes behind you, it's sort of like, hold on, you need to respect the veteran. I was here first...you need to play on my territory. So I kind of sided with Teresa in that area. Melissa, you came on her show. So you watched her on television and you wanted to be on the show like she was. No, girl, take a seat now! You're not a veteran." Speaking like a true RHONJ fan, NeNe mused that Teresa's brother, Joe Gorga, "really seemed like he wanted to have a relationship with Teresa. It's just so weird, and then to have the mom and the dad involved? I don't like that."
After seeing the New Jersey gals at the upfronts, NeNe observed the tension: "You can tell when they're all posing on the carpet, how they separate. I saw Teresa on one end and Melissa on that end. 'My position is over here because I don't want to pose next to her.' It's really weird. I know from being a housewife--I can look and I say, okay, they're not getting along."
Surprisingly, according to the Atlanta reality star, nothing is worse than the original Bravo housewives, The Real Housewives of Orange County: "I don't connect with them, most of them, for some reason," she said. "I almost want Bravo to recast Orange County. A couple of them are quite boring and can go!"
Article continues below advertisement
On Sunday, however, NeNe also revealed to fans that she absolutely identifies with the alpha females on the other housewife shows, including Vicki Gunvalson of RHOOC and Ramona Singer of The Real Housewives of New York. "Vicki is the boss, Ramona is the boss, I'm the boss. You came on my show because you were watching me at home and you wanted to be just like me. That's why you joined the show. All of us are original housewives and we have a work ethic that is very different than the new girls that come on the show. All of us work our ass off. All of us definitely have big personalities but no one can out-talk Ramona."
NeNe also disclosed that when she had said on the recent RHOA reunion show that a cast member needed to be replaced, she meant Porsha Stewart. Why? Because she felt Porsha's husband, Kordell Stewart, was holding her down and she didn't want to see the housewife go through that on another season. But when Kordell filed for divorce after the reunion, NeNe said her opinion changed and she would welcome Porsha back. "Now that he's out of the picture....she can be herself," NeNe explained. Although, as RadarOnline.com has reported, rumors have swirled recently that the Stewarts faked their divorce to create drama and stay on the show, those concerns weren't addressed in the interview. NeNe did say, however, that Porsha and Kordell had problems in their marriage when they started on RHOA and also revealed she stays in touch with Porsha "all day, every day" to raise her spirits after the younger housewife was supposedly blindsided by the divorce papers.
Article continues below advertisement
But she has no kind words for Sheree Whitfield, one of the original Atlanta housewives who is no longer on the show. "Sheree, out of all the girls, is the very one person I will never have anything else to do with," NeNe raged. "I think Sheree is very evil, I think she's very mean and she is a true bitch, and that's not cute." NeNe revealed even though she recommended Sheree for the show, they had an argument before cameras even started rolling and she wasn't a good friend. "She was super secretive. I hated that about her." So she wasn't sorry when Sheree left the show!
But NeNe seems to have mixed feelings about former RHOA Kim Zolciak, who now has her own show on Bravo, Don't Be Tardy. NeNe told Cohen that she and Kim have been texting ever since they surprised fans by hugging on the Atlanta reunion show. "She wanted us to be friends again," said NeNe, who would invite Kim to her upcoming remarriage to her ex-husband, Gregg Leakes--still, she seemed on the fence about them resuming their friendship!
Article continues below advertisement
Meanwhile, NeNe flashed her whopping 15-carat diamond ring, one carat for every year she's been with Gregg, while remaining coy about their wedding date: "I don't know. Soon," she told Cohen during the Sunday special. "I always thought we'd be together forever." Like a real diva, however, NeNe declared that she's kept the gifts given to her by John, a boyfriend she dated while separated from Gregg.
And she also reminded fans she's at the top of the reality heap! "When people think of Atlanta housewives, they think of NeNe Leakes," she boasted.