And The Oscar For BEST APOLOGY EVER Goes To – Reese Witherspoon!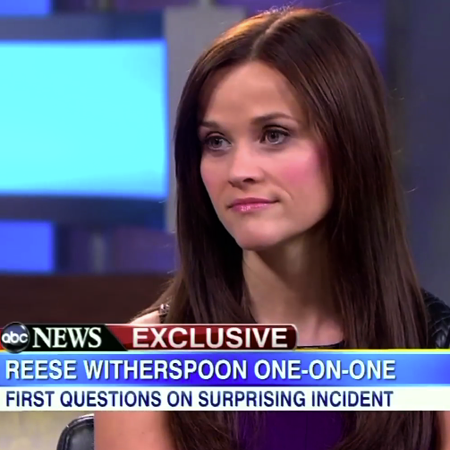 Reese Witherspoon finally broke her silence Thursday about her embarrassing arrest for disorderly conduct after her husband Jim Toth was pulled over on suspicion of drunk driving in Atlanta on April 19 – and the Oscar winning actress gave the BEST APOLOGY EVER – fully accepting responsibility for her actions, joking that although she played a lawyer in the movies (Legally Blonde), she clearly is not one, and even revealing that she told the arresting officer she was pregnant, even though she's not.
Article continues below advertisement
"It was one of those nights. We went out to dinner in Atlanta, and we had one too many glasses of wine, and we thought we were fine to drive, and we absolutely were not, and it's just completely unacceptable, and we are so sorry and embarrassed, and we know better, and we shouldn't have done that," the contrite star, 37, told Good Morning America's George Stephanopoulos.
Given the fact that Witherspoon is a multi-millionaire, George followed with a question many have wondered, asking: "A lot of people are wondering why you didn't call a car service … or call a cab?"
"Absolutely, it was just poor judgment. I think we made a mistake, and it's something that absolutely will never happen again. Just bad judgment, " Reese replied.
George then asked Reese about her now infamous comment to the arresting in which she said, 'Do you know my name? You're about to find out who I am'…"This doesn't sound like the Reese Witherspoon most of us know…" George told her.
radar_embed service=5min.com src="http://pshared.5min.com/Scripts/PlayerSeed.js?sid=1126&width=570&height=351&playList=517765539&sequential=1&shuffle=0"
Article continues below advertisement
"I know, I agree. I have no idea what I was saying that night. When I saw him arresting my husband, I literally panicked, and I said all kinds of crazy things. I told him I was pregnant. I'm not pregnant. I said crazy things. If you hear me laughing, it's only because I have no idea what I was talking about. And I am so sorry, and I was so disrespectful to him, and I have police officers in my family. I work with police officers every day. I know better. And it's just unacceptable. "
Reese also told George she's been in contact with the Atlanta police since her arrest.
"Absolutely, just yesterday," she said. "Again, I said there's no reason to be disrespectful to the police officer. All I can say is that I just panicked."
Reese also said the hardest part about her arrest was talking to her children about it.
"We have to say when you make a mistake you take responsibility, and we are taking responsibility and doing everything in our power to make it right, and you just have to be honest with them, and that was definitely the hardest part," she said.
And as for lessons learned?
"There are so many lessons learned… When a police officer tells you to stay in the car, you stay in the car. I learned that for sure. I think I played a lawyer in a movie so many times, I think I am a lawyer," Reese said laughingly. "And clearly I am not a lawyer because I got arrested…so, I learned a lot."
Watch the video on RadarOnline.com
Reese can currently be seen in the critically acclaimed new movie, Mud, in theaters now.