Lisa Vanderpump Confides In Carlton Gebbia After Costars' Ambush: I Feel Like Everything I Say Is Being Questioned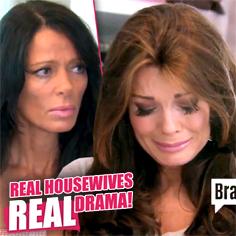 After Kyle Richards confronted Lisa Vanderpump about rumors that she'd tried to bring tabloids articles about Kyle's marriage to Palm Springs, the British restaurateur fled to get away from the drama.
Back in Beverly Hills, Lisa tries to explain the tabloid drama and the ambush in Puerto Rico to Carlton Gebbia.
"I don't want to be overdramatic and say ambushed or attacked, but that's how I felt," Lisa explains in a new preview for Monday's Real Housewives of Beverly Hills.
Article continues below advertisement
"There was no magazine, or I would have seen it," Carlton states. "It's ridiculous."
"To deal with this negative, aggressive bulls—t, I'm not going to do it," Lisa tells the cameras.
Carlton listens as Lisa recalls the nasty confrontation and shakes her head in disbelief.
"These women are supposedly your friends and are having a go at you at one time. This is what I cannot stand about insecure women. They say they're a girls girl, and they're not," Carlton says.
Suddenly, Lisa breaks down and begins to cry.
"I feel like everything I say is being questioned. I feel they're all ganging up. It's really hard. I don't want to cry," Lisa says.