'I'm A Model, Get Me Out Of Here!' New 'RHONYC' Star Kristen Taekman Has A Meltdown After Husband Forces Her To Complete Barbed Wire Obstacle Course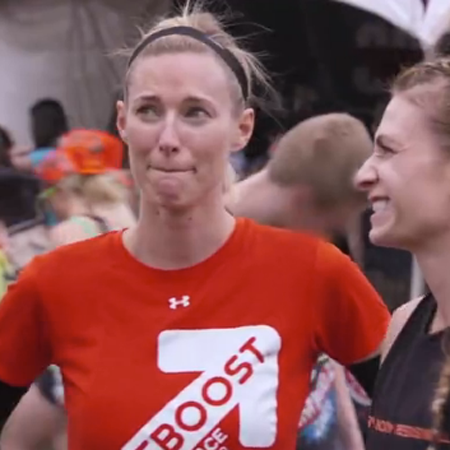 Model Kristen Taekman, the newest The Real Housewives of New York City cast member, had a meltdown after her husband forced her to risk her pretty face by completing a barbed wire-strewn obstacle course.
That's what viewers saw on the Bravo show Tuesday night as the blonde (who has previously admitted hubby Josh Taekman says she's "not the sharpest tool in the shed") got left in the dust.
It all started when the couple competed in The Spartan Race in New York: Kristen was worried about the grueling competition in which people had to run through mud and face other obstacles.
Article continues below advertisement
Although she'd once posed naked in Times Square for her modeling career, Kristen mused, "Spartan Race? I don't think I can do it."
Josh insisted to his wife, "You're going to see that you can do this."
But Kristen soon got a cramp and had to stop while competitive Josh, who had promised to stay with her on the course, ran off ahead of her.
"I knew he was going to leave me," she fumed.
Kristen was particularly scared when she saw a section of the race in which competitors had to crawl under barbed wire.
Watch the video on RadarOnline.com
"I'm a model. What happens if I cut my face?" she moaned to Bravo's cameras.
While Josh finished strong (and so did Kristen's co-star, Heather Thomson), Kristen was far behind.
She finally completed the race by leaping over hot coals and yes, crawling under barbed wire!
"Get the f*ck off me!" she shouted at her husband when he tried to congratulate her. "I'm not talking to you right now!"
Article continues below advertisement
Josh told her, "Embrace it. Have a sense of pride."
A crying Kristen said, "I'm in a lot of pain."
But Josh said cruelly, "Man up!"
On another Tuesday night storyline, viewers saw the aftermath of the explosive "Ghostwritergate" argument between Carole Radziwill and Aviva Drescher.
Aviva, who's writing a memoir, called published writer Carole pompous and unsupportive.
"Don't talk to me about my profession. You're a b***h!" Carole shouted at her.
Article continues below advertisement
Carole countered by calling Aviva "a psychopath."
"At least I'm not 50 years old," Aviva snapped of Carole.
Carole grabbed Aviva's chin on the staircase of her home and the other housewife shouted, "Don't touch me!"
Afterwards, Carole told Aviva's husband what an awful woman she was.
Also on the episode, Sonja Morgan said she had 30 people on "Team Sonja" who worked for her as she welcomed a new intern, Adrienne.
"I'm a sergeant — it's my way or the highway," the 50-year-old entrepreneur told the scared-looking girl who was supposed to handle her social media.
Meanwhile, the other housewives took sides on the Carole/Aviva controversy with Kristen pointing out to Aviva that Carole might be jealous of her because she doesn't have a husband or children.
Later, Carole hosted a baby shower for a single female friend who got pregnant via sperm donor, and she told Ramona Singer her own life was full without kids. But of her career, she admitted, "It's all I have" and that's why Aviva questioning her writing was such a big deal.
The final Tuesday plot-line showed Ramona's daughter, Avery, 18, getting ready for her prom.
Ramona, 53, worried about her hooking up with bad boys and got emotional about Avery going away to college.
"I'm sad for me. She is such a major part of my life."
The waterworks started for Ramona when she saw Avery in her bright red prom dress.
"My baby's grown up," the wine businesswoman sobbed, and decided when Avery left for college, "I have to take a lot of Xanaxes that day. The pinot's not going to work for me!"